Three northern groups share $1.5M Arctic Inspiration Prize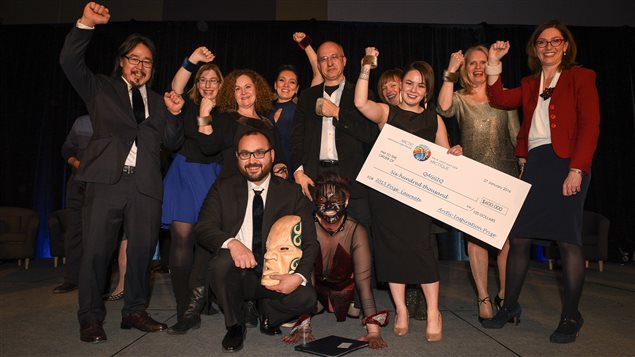 Three northern projects, ranging from a program to support Arctic performance artists, to helping hearing impaired children, and advancing health and wellness among northern communities, shared the $1.5 million Arctic Inspiration Prize Wednesday night.
The awards ceremony at the Shaw Centre in Ottawa, attended by Canada's Governor General David Johnston, featured a performance by Tanya Tagaq, Laakkuluk Williamson Bathory, Christine Duncan and Nunavut Sivuniksavut.
Qaggiq: Nurturing the Arctic Performing Arts program was awarded $600,000 to implement its plan to revitalize Arctic culture and the performing arts.
"It is absolutely amazing," Williamson Bathory said, speaking on her cellphone from Ottawa. "It changes our landscape as performing artists in the Arctic."
(click to listen to the interview with Laakkuluk Williamson Bathory)
Qaggiq represents a diverse team of northern performing artists, educators and arts administrators from across the Arctic and southern Canada, Williamson Bathory said.
"Basically, it's a two-part project where in the first place we will be creating a cultural map of the Arctic: who the performing artists are, where they live, what their practice is and what their needs are," said Williamson Bathory. "The second part is a training the trainer program where the established performance artists are given the support and skills in order to teach their practice to children and youth."
Healthier youth
The second slice of the prize went to another project that targets youth.
The Tri-Territorial Recreation Training project received $600,000 to train future leaders across the North in recreation programing.
"In Northern communities there are always people who are willing to support positive recreational programming, but a lot of times they are ill-equipped," says Olympic cyclist Zach Bell.
Bell grew up in Watson Lake, Yukon, and knows first-hand how important recreational activities are to young people in the North.
"Positive programming doesn't just give youth a new thing to focus on that may take them away from the more negative distractions.
Better education outcomes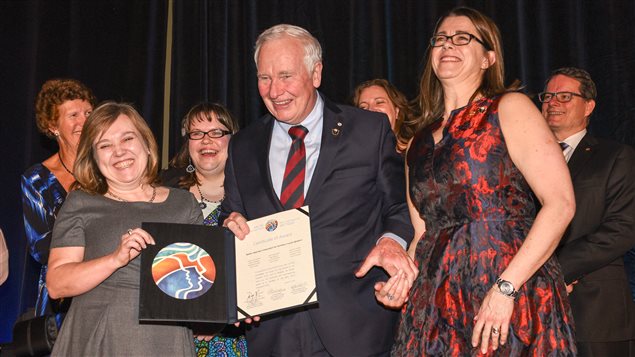 Better Hearing in Education for Northern Youth (BHENY), walked away with a $300,000 cheque for its plan to foster literacy and academic outcomes for youth living with hearing loss in the Qikiqtani Region of Nunavut.
"We are thrilled to receive this support from the Arctic Inspiration Prize," said Lynne McCurdy, an audiologist from Guelph, Ontario who will lead the BHENY team of hearing health care professionals, educators, parents, and community leaders. said McCurdy.  "The funds, and the awareness that the Prize will generate, will have a huge impact on our plans to support the needs of children with hearing loss."
The BHENY project will include classroom-based sound amplification technology, professional development, training and support for educators, parents and the community.
In addition to the financial award, the laureates were presented with artwork created by sculptor Adamie Anautak from Akulivik, Nunavik, Dakhl'awèdí carver Calvin Morberg from Whitehorse, Yukon, and copper sculptor Brian Walker from Whitehorse, Yukon.
The prize was founded in 2012 by Arnold Witzig and Sima Sharifi.  To-date, 11 teams have been awarded prizes totalling $4.5 million.