First liquor store in more than 40 years opens in Bethel, Alaska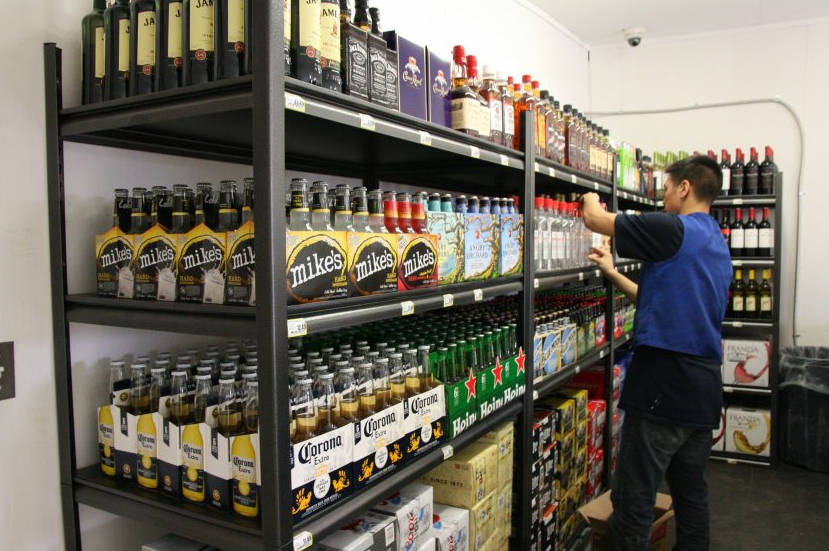 BETHEL – After decades of political battles over booze in a region where attention is often focused on alcohol-fueled destruction, the Tuesday opening of Bethel's first liquor store in more than 40 years was an understated, happy affair.
A dozen or so people waited in a gray drizzle outside the Alaska Commercial Co. liquor store before the 11 a.m. opening. A big team of managers and workers from Bethel and Anchorage was at the ready to ensure a smooth start.
"This is to lifting prohibition, which is awesome," customer Corey Stelmach said, waiting for the front door to open. "If we look at other places like McGrath, like Nome, like Dillingham – it's about time that this town for its size and its population has something for adults. We're not children here."
Bethel, home to about 6,300, is also the hub for 50 villages, many of them dry with alcohol strictly banned. Bethel, and now its liquor store, is a quick boat or snowmachine trip away from some villages.
"It's a big day for me," said Stelmach, 39, who has lived in Bethel since he was 2 years of age, and now owns The Tobacco Shop in town. He's never known legal sales in his hometown.
"Bethel is maturing!" someone shouted.
Then it was time. Ten inside at once, shoppers were told.
'Work in progress'
The liquor store is a work in progress. Alaska Commercial Co., which received its approval last year, had quickly retrofitted its storage unit building, connected to its AC Quickstop and across the street from a subsidized housing development. A major $1 million renovation is planned for later this summer or early fall.
For now all the alcohol is behind the counter: a fifth of Rich & Rare – a Bush-favored Canadian whisky — for $16.99 and Crown Royal for $36.99, an 18-pack of Budweiser for $26.49 and a six-pack of Alaskan Amber for $10.99, Monarch vodka for $11.69 and Grey Goose for $42.99.
Those prices are before Bethel's new 12 percent tax is tacked on, and reflect the cost of air freight, said Walt Pickett, AC's Anchorage-based general manager and vice president of operations. Alcohol doesn't qualify for the bypass mail subsidy retailers rely on for most goods.
But no one was complaining in a town seeing its first legal sales since the early 1970s. A bottle of bootlegged R&R goes for $50 in town, said customer Toni Tony.
No issues say police
Fili's Pizza started offering beer and wine last month. Bethel Native Corp. is preparing to open its Bethel Spirits liquor store in the old Swanson's marina store near the Kuskokwim River. The Snack Shack has applied for a conditional use permit from the city but hasn't yet sought an alcohol license from the Alaska Alcohol and Marijuana Control Office.
Sales of beer and wine at the pizza place haven't led to any issues in town, said Bethel Police Chief Andre Achee.
Stelmach and Mike McIntyre rushed to be the first customer, each hitting a different register.
McIntyre bought six-packs of Alaskan Amber; Stelmach, fifths of Jameson Irish Whiskey and Crown Royal, plus Corona beer. Afterwards, they compared the time stamp on their receipts: each said 11:01 a.m. They can share the fame, McIntyre said. But Stelmach spent more, $105, counting tax.
"Is it cold?" a woman asked, wondering about the beer.
No, she was told.
Specialized shelving and refrigerated cases will arrive on a barge later this summer and the store will be remodeled to include a beer cave, Pickett said. Customers will be able to browse shelves of spirits and wine, cold beer and mixers, salty snacks and bottle openers.
"Once we get that work done, it will be similar to other liquor stores where customers can come in, shop their own selection," Pickett said.
By the first hour, the store had racked up $1,350 in sales.
Customers kept coming, a few at a time. A young couple bought Tanqueray gin and Crown Royal. AC had planned for big sales of Budweiser and Coors Light like elsewhere in the Bush but instead the store sold out of Heineken, Corona and Mike's Hard Lemonade. People bought Monarch and R&R, but also requested special wine varietals including malbec and shiraz. Bethel might have more upscale tastes than expected, Pickett said.
Staff and training
AC didn't advertise ahead of time but public radio station KYUK had broadcast the opening time on its morning newscast.
The AC Bethel store joins eight others in rural Alaska, and is being modeled after them. The company hired 10 store employees and two security staff members, Pickett said.
The goal is to operate safely, meet all the city and state requirements, and make sure staff members are trained and certified to sell alcohol, Pickett said.
AC sent its Bethel liquor store manager, Julius Rankin, to Anchorage for training, and now he is certified to train others so they know how to look for fake IDs and underage people.
Rankin, who has lived in Bethel since 2007, was the closing manager for the AC grocery store in town. He said he decided to take the liquor store job to ensure it is done right.
"When I was first offered this job, I was kind of scared, thinking about how people felt about alcohol in Bethel," he said.
He said he is committed to the community — his wife is from Bethel and a nurse, and they have children here.
"At least I could be there to make sure that alcohol sales are done the right way, that we are not selling to kids, that we are not selling to intoxicated people," he said. "I just want to keep things as professional as humanly possible."
The store has security cameras inside and out, plus security staff who will patrol grounds and ensure no intoxicated people come in, said Pickett. Some shoppers on Tuesday had already been drinking, but no one was stumbling around. When a man outside walking past the store yelled at someone, staff members were quick to go to the door.
All the sales clerks as well as some other staff already have been through required Training for Alcohol Professionals, or TAP, to ensure they don't sell to minors. They could be on the job 30 days without it. Pickett said AC wants to go beyond what's required, to ensure sales in Bethel go well.
Business was steady and smooth all day, managers said. A few people didn't have government IDs. Some headed to DMV to get one.
"The customers have been doing a lot of smiling," Pickett said.
Related stories from around the North:
Finland: Finns divided over alcohol regulation, Yle News
United States: Alaska city awash in alcohol even without legal sales, Alaska Dispatch News