WWF cam draws 225K watchers to endangered Finnish seal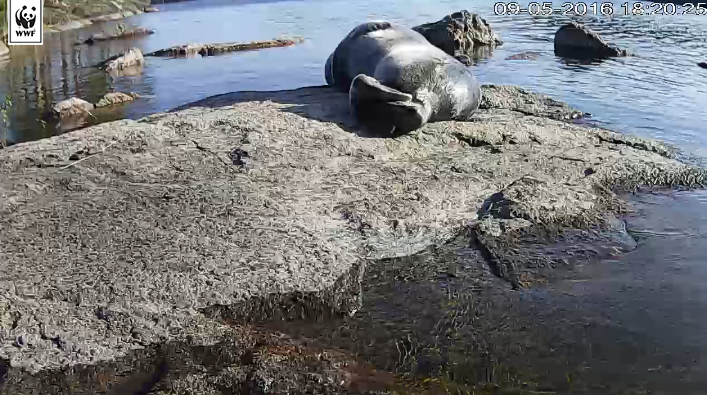 The World Wide Fund for Nature began streaming live video of a rock in Saimaa lake known to be a favourite spot for the ultra-rare Saimaa ringed seal.
More than 200,000 viewers have tuned into the new service and been treated to live footage of the animal.
On Wednesday nature conservation organisation WWF began streaming a live video feed of a rock by Lake Saimaa known to be favoured by Saimaa ringed seals, a species so rare that it only exists in Saimaa.
The animals come to the rock to lounge in the sun, sometimes for hours at a time. In just a few days the feed had been opened more than 225,000 times.
The WWF was surprised by the video's popularity.
"We figured that people would take an interest, but it's still huge," says organisation spokesperson Joonas Fritze. "It was a great surprise on Friday when one of the seals propped itself up on the rock and the visitor counter went up like a shot."
Goal to identify every seal
The idea for the live cam came when researchers at the University of Eastern Finland wanted to accurately identify all of the 320-odd Saimaa seals.
The unique patterns on their flanks make such a rigorous identification scheme possible.
"The seals have personal flank patterns in their fur, kind of like people and fingerprints," says Fritze. "The patterns don't fade or disappear even if the fur is shed."
Dozens of cameras have already done their job documenting some 200 seals – but only in still picture format.
"Once we started getting results there we thought, couldn't we stream live video footage? We knew where the creatures liked to hang out, after all. So we checked if we could do it and we could," Fritze says.
Endangered species in natural habitat
In addition to the research function of the camera, the WWF wants to be able to use it to show people the Saimaa ringed seal live in its natural environment.
"Of course we also hope that once people become more acquainted with the species they will become interested in participating in our conservation efforts," Fritze says. "One thing people could do is to stop fishing with nets, because net-fishing is the number one cause of death among ringed seals."
The video camera may remain in place until the end of June, but it will likely be removed prior to that. Saimaa ringed seals shed their fur well before that in the beginning of summer and spend all of their time in the lake.
"It's by mid-June at latest that we would just be filming an empty rock," Fritze says.
The live stream (called #norppalive) of the rock beloved by Saimaa ringed seals can be found here.
Related stories from around the North:
Canada:  Caribou numbers plummet in eastern Canada, Radio Canada International
Finland:  Record number of Saimaa seal pups born, Yle News
Russia:  A reindeer tragedy in Russian Arctic, The Independent Barents Observer
Sweden: Bear hunt quota worries reindeer herders in Sweden's Arctic, Radio Sweden
United States: Wildfires could threaten Arctic caribou herd's winter habitat: study, Alaska Dispatch