Kirkenes, Norway becoming hub for marine traffic heading to Arctic Russia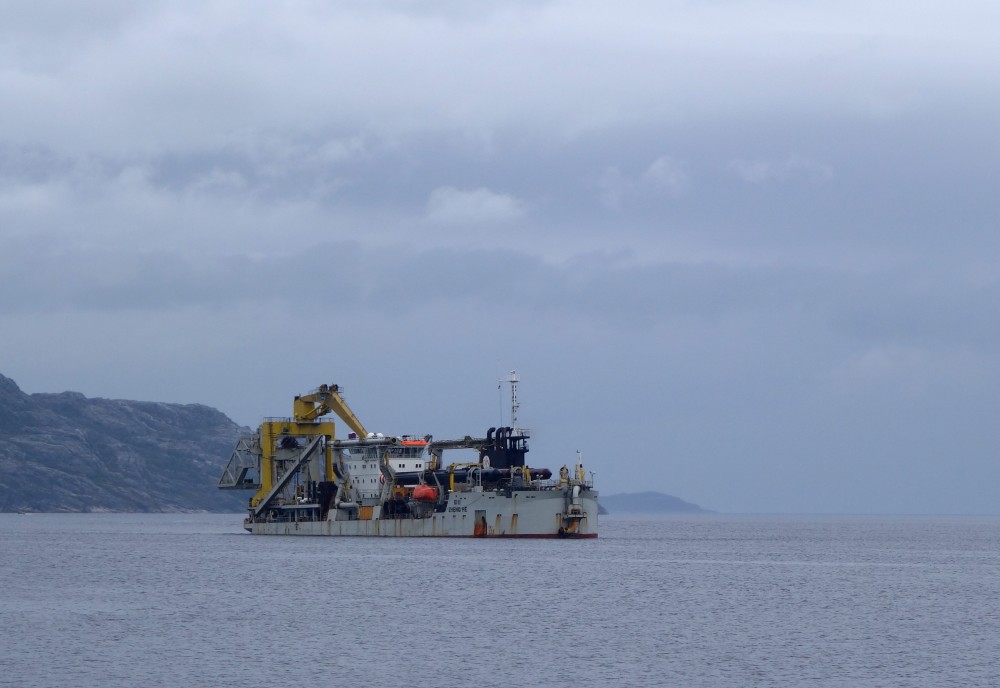 This week, the dredger «Zheng He» — next week, the heavy lift ship "Happy Sky". The Norwegian port of Kirkenes has become a hub for marine traffic toward Russia's Yamal Peninsula.
The 139 meter long and 2680 deadweight ton «Zheng He» did not sail unnoticed into the Port of Kirkenes last nigth. With its characteristic cranes and features, it looked more like one of those transformers toys you kids use to play with.
The ship is on its way to Yamal where it will engage in dredging operations in the Gulf of Ob, a representative of shipping agent Tschudi confirms to the Barents Observer. The ship will shift crew and apply local services, the agent says.
Increasing port visits
The Luxembourg-registered «Zheng He» is not the first special-purpose ship entering Kirkenes these days. The port located in the Norwegian Arctic only few kilometers from the border to Russia has over the last years had a number of exclusive visits.
In September last year, the heavy lift ship «Oleg Strashnov» visited Kirkenes on its way to Cape Kamenny, Gazprom Neft's new port in the Gulf of Ob. There, the ship installed the huge Novy Port oil terminal facility in the middle of the shallow gulf.
In late April this year, the «Hai Yang Shi You 720», a major Chinese seismic vessel, docked in the port before its started its compressive mapping of Russian Arctic waters. 
Shortly after, Norway's new intelligence vessel, the «Marjata» for the first time made port call in Kirkenes. 
Out-shipments fueling growth
Next week, another special visit is coming up. The «Happy Sky», a heavy lift ship operated by company Big Lift, will make a stop in Kirkenes on its way to Sabetta, Russia's grand new Arctic port in Yamal. The ship is believed to carry core components for the Yamal LNG plant in the area. 
The port of Kirkenes has over the last years been among the quickest growing ports in all of Norway. While the port in 2007 handled only 84,304 tons of goods, it in 2014 handled as much as 5,47 million tons. Much of that growth comes from the out-shipments of local iron ore from the Sydvaranger mine. 
Figures from the Kirkenes Port Administration show that a total of 1,305 port calls were made in 2015. Of them, 162 were ships engaged in reloading of oil and 30 seismic vessels. Trawlers and fishery vessels accounted for 210 of the port calls, while the Hurtigruten coastal steamer registered 347 port calls. 
Related stories from around the North:
Canada: How Arctic shipping could boost Canada's trade relationship with Asia, Radio Canada International
Finland:  Finland-Russia trade down – but some remain hopeful, Yle News
Iceland: Calls for action at Arctic shipping conference, Alaska Dispatch News
Russia:  Arctic cruise industry expands, Cryopolitics Blog
Sweden: Swedish icebreakers gear up for Arctic role, Radio Sweden
United States:  Arctic no shipping rival to Suez: expert, Alaska Public Radio Network