Historic discovery about life on Earth unearthed in Labrador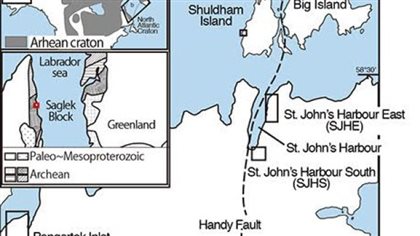 Did life on Earth begin in Labrador, or at least what is now called Labrador, part of Canada's East Coast province of Newfoundland and Labrador?
Could be.
At least, until researchers find something older.
In an article published Wednesday in the science journal Nature, University of Tokyo researchers led by Takayuki Tashiro and Tsuyoshi Komiya say rocks they examined in northern Labrador contain the oldest evidence of life on Earth.
They say grains of graphite lodged between the rocks were dated to 3.95 billion years.
That's at least 150 million years older than the oldest graphite from living organisms previously found in 3.7 billion to 3.8 billion-year-old rocks in Greenland and northern Quebec.
The findings suggest that rudimentary life emerged around 500 million years after the Earth was formed while it was still being bombarded by asteroids.
Graphite can be formed from chemical reactions with substances such as limestone, but can also be formed when decaying organic matter heats up to several hundred degrees.
To figure out whether graphite came from a living or non-living source, researchers use instruments to compare the ratio of carbon-12 to carbon-13.
After testing, the University of Tokyo researchers concluded–though not conclusively–that the material they found was biogenic, meaning it was produced by living organisms rather than geological processes.
Since the exact identity of the the organisms remains unknown, the researchers say further exploration is required.
The researchers caution that though the samples they found were not conclusively proven to be biogenic the "discovery of the biogenic graphite… will provide insight into early life not only on Earth but also on other planets.