Tourist boom raises hope for Scandinavia's northernmost cross-border flights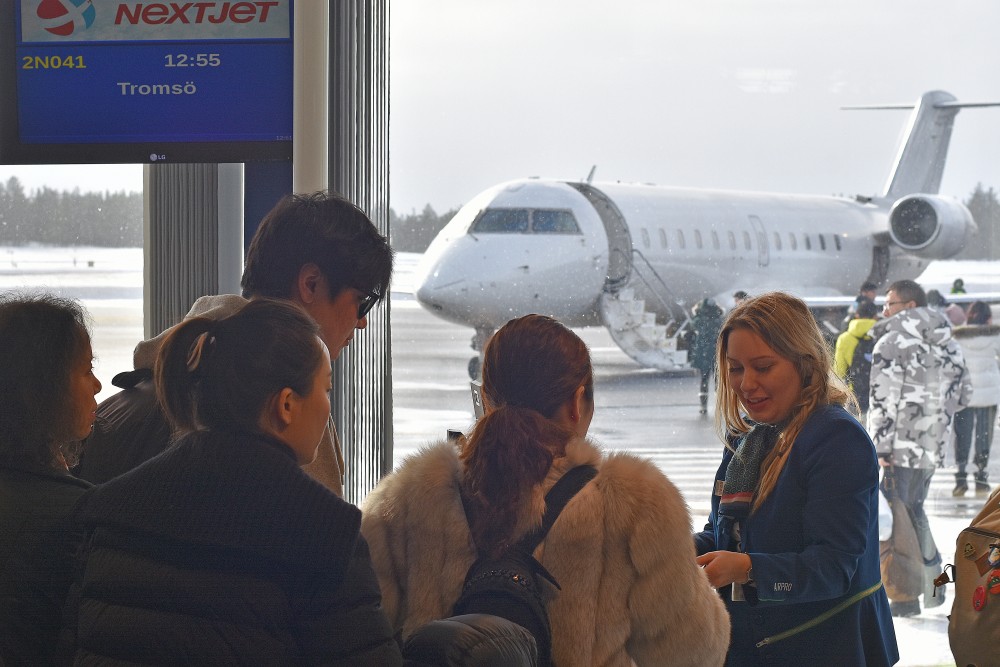 It's Thursday and the queue for boarding the flight to Tromsø is longer than ever. This off-scheduled flight directly to Tromsø is aimed at testing the market. All passengers are tourists from China now ready for winter adventure at Norway's Arctic coast.
"We have just had three groups of Chinese testing a travel package including Oulu and Tromsø," explains Robert Forsberg with Arctic Air Link to the Barents Observer. "We see a big potential here," he continues.
Arctic Airlink is the branding of the flights operated by the Swedish airline Nextjet.
Flying three times a week, the route is currently the only connecting the northernmost parts of Finland, Sweden and Norway. The initial idea was to make life easier for business people in the north that otherwise would have to fly south via the capital airports of Oslo, Stockholm or Helsinki to het to their northern destinations. That takes time.
Half of passengers are tourists
For Arctic Airlink, it is however the boost in tourism to northern Scandinavia that now pushes the number of passengers up.
"The overall number of passengers increases, with the number of tourists most," Robert Forsberg continues. "Tour operators from Germany, England, Holland and Italy show interest and book the flight for their customers."
Forsberg says tourists now count for half of all passengers. The flights between Oulu, Luleå and Tromsø had a challenging start with about two out of three seats in average flying empty the two first years of operation in 2015 and 2016. In the start, the route was operated with a smaller propeller. A year ago, Nextjet's new CRJ 200 jet plane with 50 seats made the route faster and more comfortable.
Additionally, the flight today continues to Sundsvall and Gothenburg, making it more attractive for passengers from Tromsø to more destinations in Sweden. Forsbeg says the goal for 2018 is to fill 65% of the seats in average.
From May, regional airline Widerøe in cooperation with Finnair starts a direct route from Helsinki to Tromsø. With a sharp increase in inbound passengers from Asia to Finland, the hope is to attract more of the tourists to fly to the coast of northern Norway.
Related stories from around the North:
Canada: Cruise through Northwest Passage has set sail, Blog by Mia Bennett, Cryopolitics
Finland:  Southern Finland looks to lure Chinese visitors beyond Lapland, Yle
Iceland: High peak in low season, Iceland's mass-tourism boiling over, The Independent Barents Observer
Norway: Electric planes could arrive sooner than we think in Norway, The Independent Barents Observer
Russia:  Arctic Russia to get a military-themed amusement park, The Independent Barents Observer
Sweden: Millions more flights from Swedish airports despite environmental toll, Yle News
United States: Northwest Passage cruise marks turning point in Arctic tourism, Alaska Public Radio Network