Alaskan historical site, birthplace of state flag, remains a ruin despite investments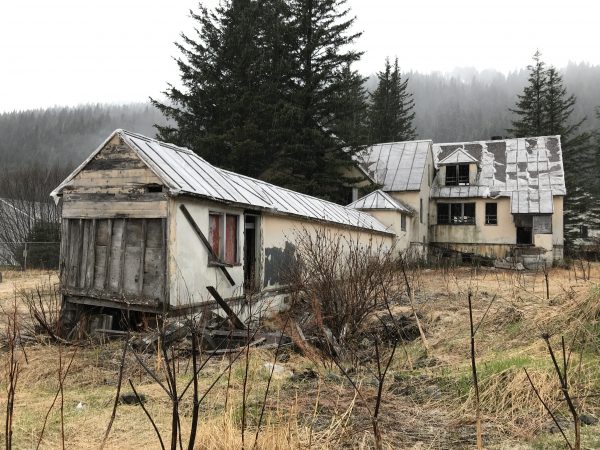 The Jesse Lee Home is a nearly century-old former children's home and the birthplace of the Alaska state flag. The nonprofit Friends of the Jesse Lee Home had millions in grants and more than a decade to fix it up, but they now say time is running out.
The problem, according to state officials, is that the group mismanaged state funds. Now the Jesse Lee Home is closer than ever to being demolished and lost forever.
The Friends of the Jesse Lee Home still hold onto their hopes of restoring the property to something at least close to its former glory, with plans to transform it into a state-owned magnet school.
The enormous building is abandoned, guarded by a chain-link fence, and some say it looks like a big haunted house. It sits on a hill above Seward, covered in weathered beige stucco. There are no window panes, nor a fully functional roof.
But Dorene Lorenz, who chairs the Friends of the Jesse Lee Home, says it's still worth saving.
"It's a stout sturdy building, and it really is a testament to the engineering, the quality of the materials and the quality of the guys who built it," Lorenz said during a tour on a recent rainy day.
Alaska flag designed, first flown here
The Jesse Lee Home was a refuge and school for hundreds of children from 1926 to 1964. Most were Alaska Native kids displaced from tuberculosis- and flu-ravaged villages. Famously, a 13-year-old Alutiiq boy named Benny Benson won a statewide contest to design Alaska's flag while living at the home. This became the first place ever to fly it.
That's just one part of the rich history that the Friends of the Jesse Lee Home want to preserve. And past Legislatures have agreed. Lawmakers have appropriated roughly $7 million in grants to restore the building and plan a new school.
There's been an architectural study, curriculum development and some structural reinforcement work. But after all that, there's still rainwater pouring into parts of the building and smashed asbestos tiles strewn around.
"It's so complicated," Lorenz said. "And it's frustrating as all get-out, because if it was up to me, this building would be done by now."
Nonprofit blames bad economy, red tape
The project does seem complicated. The nonprofit needed to develop school curriculum to know how certain rooms would be used before remodeling them, Lorenz said. She also blames Alaska's economic downturn, lean state budgets in recent years and unfair scrutiny from Governor Bill Walker's administration.
"Unfortunately, since the Walker administration we haven't been able to access funds," Lorenz said. "We used to go every spring and batten it back down. We did that for several years and did a really good job of keeping the building dry. But we haven't been able to do it for years."
That part about not being able to "access funds" is something Lorenz has said in two recent TV news stories and several times on her group's Facebook page, imploring supporters to call or write their legislators.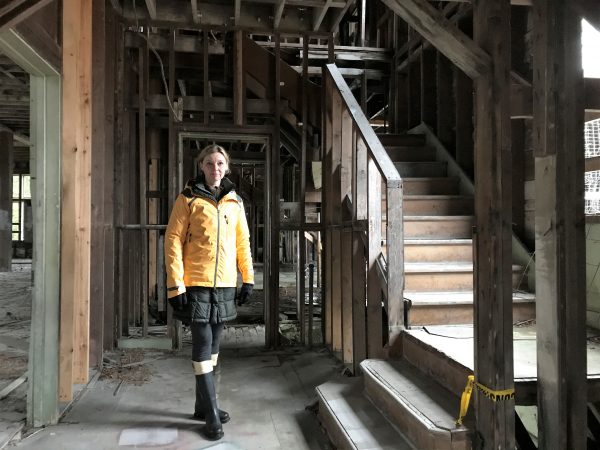 Lorenz left out a key detail, though.
"Well the grants are actually terminated," Fred Parady said. Parady is deputy commissioner of the Department of Commerce, Community and Economic Development, which had been overseeing the grants.
Parady said the grants were terminated "for cause."
"We just had a series of reporting issues and accountability issues back and forth between us and the Friends of Jesse Lee Home, disallowed or questionable costs that were identified, and it became clear that the process wasn't working and we needed to terminate the grants, so we did," Parady said.
The termination letter from July of 2015 says, "it has become painfully apparent this project will not be successful." It points to nearly $700,000 in improperly documented spending and lists expenses on travel and a film festival, as well as alcohol, an office remodel and stereo equipment sent to a home address. There was even a tub of bikini wax.
Nonprofit, state point fingers at each other
Lorenz has explanations for some of the spending and she said an audit later found some of the expenses to be justified. For example, the wax was needed to develop a possible lesson on how not to remove hair from animal fur. She also said their former executive director once ordered a margarita that went onto a reimbursement receipt for a meal by accident. That was paid back, Lorenz said.
But in about 15 minutes of back-and-forth about the state's broader claims — that the grants were terminated for a variety of reasons, including a general lack of controls on spending — Lorenz did not have a clear answer.
"I can't give you an explanation for this because no explanation was given to me on why before, for years, everything was fine, and then all of a sudden it's not fine, and not only is it not fine today but it's not fine in the past either," Lorenz said.
Parady admitted the scope of the grant agreements allowed for more than just construction costs, and, to be clear, he doesn't think anybody stole money. But Parady said the Friends of the Jesse Lee Home might have gotten off track with developing school curriculum that distracted them from the more immediate needs of the deteriorating building.
Ultimately, the questions about how money was being spent were grave enough that the state felt it had to act. Parady said this is rare: The department has hundreds of grantees across the state.
"There's only a handful that are really trouble, and this is one of them," Parady said. "Reports were late, they were incomplete, they were internally contradictory, they were duplicative. It took us quite a while to sort it out."
Will the building survive?
Meanwhile, the building itself is now at risk, and that's related to the broken asbestos tiles, as well as asbestos-wrapped pipes and lead paint. Removing those hazardous materials is among several things the nonprofit promised to have done by the summer of 2019.
If they do not complete that checklist, a contract with the the city of Seward expires and the city will take ownership of the Jesse Lee Home. City officials have said they might have to tear it down.
Seward Mayor David Squires said the city simply doesn't have the resources to deal with it. The city manager has suggested that the city would have no choice but to demolish the building.
"They would have a choice," Squires said. "(Seward) could raise taxes up to save it."
But is that really likely to happen?
"No. I don't think anybody in the community would vote to raise their taxes to save the Jesse Lee Home," Squires said. "I could be wrong, but I don't see that happening."
The city has no official position on what should happen to the building, Squires said. After all, they don't own it. Not yet anyway.
No city or state funds
But Seward also recently got the Legislature to take the remaining $1 million from the nonprofit's locked-up grant money and set it aside for the city instead.
That's because the city does not want to get stuck with the cleanup costs, Squires said.
"The city of Seward does not have the funds to mitigate the hazards that are up there that've been identified in the contract. So we need funds from someplace," Squires said.
The Friends of the Jesse Lee Home had their own request in to the Legislature, to unlock the money and transfer oversight of the grant to the state's Historic Preservation Office. That failed, though, when lawmakers passed the state capital budget, going with the city of Seward's request instead.
Lorenz, with the Friends of the Jesse Lee Home, worries this has doomed the restoration project. If the building is lost, a physical piece of Alaska's short history and a reminder of how the state cared for hundreds of children in need goes with it, she said.
The group still hopes to be able to raise further funding to complete the project.
Related stories from around the North:
Canada: Canada wants to list mysterious Arctic petroglyphs as UNESCO World Heritage Site, Radio Canada International
Finland: Archaeological sites targeted in Finland, Yle News
Russia: First icebreaker to reach the North Pole ends her days in a scrapyard, The Independent Barents Observer
United States: New book tells untold story of black soldiers who built the Alaska Highway, Alaska Public Radio Network