First Canadian and Inuit-owned artifacts from Franklin wreck revealed to public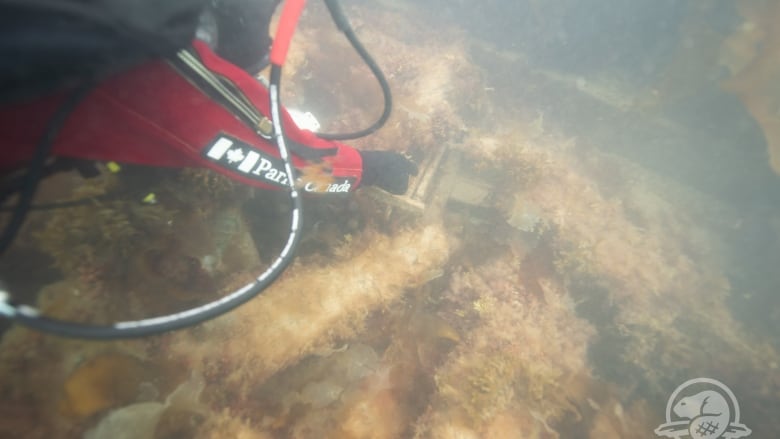 9 artifacts jointly owned by Canada and the Inuit Heritage Trust were revealed to the world Tuesday.
Nine artifacts from the wreck of Sir John Franklin's HMS Erebus, jointly owned by Canada and the Inuit Heritage Trust, were revealed to the broader public Tuesday after being displayed in Nunavut communities last week.
The artifacts are the first to fall under an agreement finalized by Canada and Britain in April, which gave Canada and Inuit joint ownership of the wrecks of HMS Erebus and HMS Terror, as well as any undiscovered artifacts.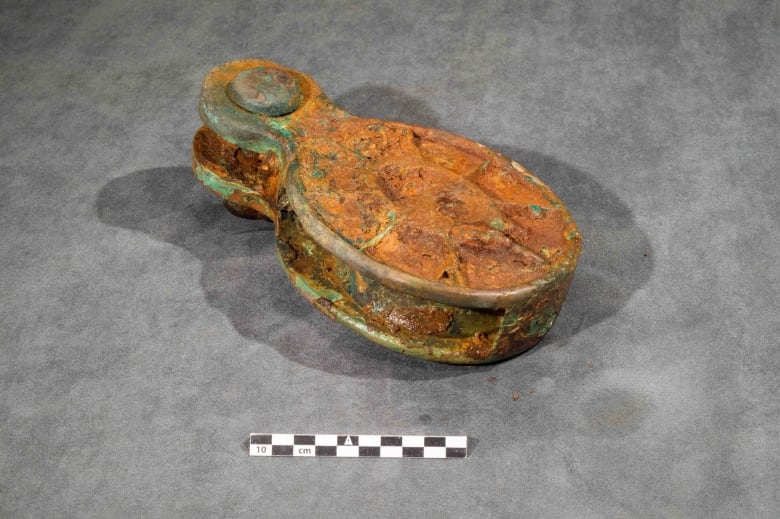 The U.K. was granted ownership of the 65 artifacts already discovered by Parks Canada diving teams at the time of the agreement, making these nine artifacts the first to be owned by the Canadian government and local Inuit.
Both ships sank during the doomed Franklin Expedition while seeking a path through the Northwest Passage. The ships disappeared after being locked in ice in 1846. The wreck of the Erebus was discovered in 2014, the Terror in 2016.
The artifacts include a water pitcher, a block and shackle, a nail, a belaying pin for rope and a fearnaught, used for waterproofing the upper deck of the ship.
Underwater archeologist Charles Dagneau said the discovery of these artifacts help continue to uncover the mystery of what exactly happened to the ship, and the people on board.
"That mystery has been unsolved for years, and and we're getting some opportunities through the archeological process to answer some major questions on what happened," said Dagneau.
Last week, the artifacts were shown to local Inuit at community events in Gjoa Haven and Cambridge Bay, Nunavut. Inuit oral history was key to discovering the wrecks, which were discovered near Gjoa Haven.
The reception to the meetings was positive, said Dagneau, who conducted presentations with elders and the Kitikmeot Heritage Society.
"Parks Canada wanted to give the communities up north, the Inuit, the first look on the artifacts because they are the owner," said Dagneau.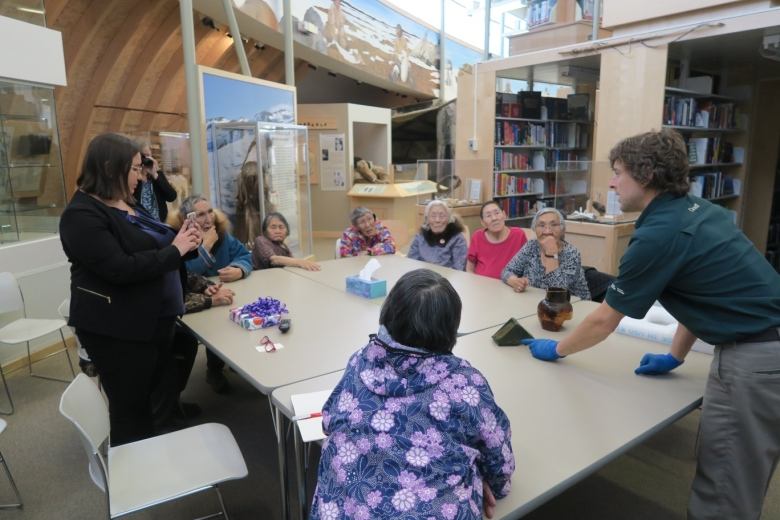 The artifacts will now be sent to a lab in Ottawa for a DNA examination. A memorandum of understanding between Parks Canada and the Inuit Heritage Museum is being developed to figure out a management plan for the artifacts.
Correction: The author of the article is Michael Hugall, CBC News. His name was omitted from the original version of this post.
Related links from around the North:
Canada: Britain will give historic Franklin wrecks to Canada, Radio-Canada International
Finland: Archaeological sites targeted in Finland, Yle News
Norway: Roald Amundsen's Maud back home 100 years after setting sail from Norway, CBC News
United States: Historic buildings crumbling in Anchorage, Alaska face an uncertain future, Alaska Public Media