Finnish elections: Social Democrats in lead spot, PM's Centre Party takes heavy losses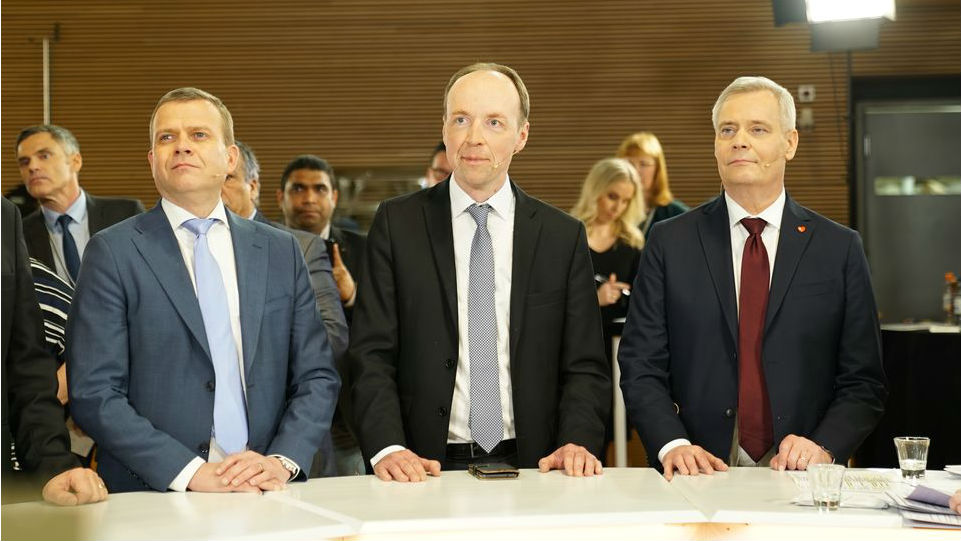 Government parties took a drubbing in Finland's parliamentary election on Sunday as Prime Minister Juha Sipilä's Centre Party polled its lowest general election result ever with just 13.8 percent of the vote to lose 13 seats with all votes counted, while hard-right populist Finns Party came second with 39 seats, just one behind the Social Democrats' 40.
Coalition partner Blue Reform was obliterated, getting just one percent of the vote and no MPs, while the third government partner the National Coalition Party emerged from four years in power relatively unscathed to gain one seat and finish on 38 seats.
Sipilä, a former businessman, had promised to bring the efficiency of the private sector to government as prime minister. However his administration's austerity policies and labour market experiments such as a contentious so-called activation model ruffled many feathers. Reacting to the results on Sunday, Sipilä said that the party was the evening's biggest loser. "We are the biggest loser and that must be acknowledged. The people have spoken," he added.
An upstart in the race according to media polls, the Finns Party made good on pre-election polling and staged a strong finish with 17.5 percent of the vote. Immigration hardliner and party chair Jussi Halla-aho had previously had said he wanted to take the party into the next government.
"We have made it very clear to everybody that we are open to cooperation with everyone but not at any cost," Halla-aho said. "We could not join a government which is not committed to reducing harmful immigration to Finland," he added.
Halla-aho a big vote puller for Finns Party
Halla-aho scored a double win for the Finns Party, as he emerged as the evening's biggest vote magnet, attracting support from more than 30,000 voters.
The centre-left Social Democratic Party managed a razor thin lead over its rivals, snapping up 17.7 percent of ballots cast, one of its poorest election outcomes ever. But that was enough for the Social Democrats to increase their parliamentary presence by six seats to 40, likely giving the party the mandate to initiate government formation talks.
Party leader and former union boss Antti Rinne told Yle News that he is likely to focus on a few key issues in government. "I hope we can solve this unemployment situation we have in Finland nowadays. It's pensions, students, and child families are not doing so well in Finland now," he noted.
The NCP ended the evening with 17 percent voter support, just trailing the populist Finns Party. The SDP and the NCP have not always seen eye-to-eye, but party chair Petteri Orpo did not rule out both parties cooperating in government.
"Of course it is possible if we find a common programme for the government. Our red lines are the economy. We want to keep public finances in balance and we want Finland to be an active member of the EU. And our main target is to get the unemployment rate to a Nordic level," Orpo told Yle News.
The election was a hotly-contested race in which no single party was able to harvest 20 percent or more votes — a situation that analysts described as unusual. The outcome reflects what pundits are calling an increasingly fragmented political landscape in Finland.
"People are looking for options. They have not been satisfied and that's why we have seen the growth of support for the Finns Party and the Greens," said political commentator Sini Korpinen, a frequent contributor to Yle News' All Points North podcast.
"The age when three big parties take turns in government or in opposition are over. It's time for politicians to figure out how to make things work," she added.
2019 records: Early voting, women make gains
This year a record number of people — more than 1.5 million or 36.1 percent of the electorate — opted to cast their ballots early during advance voting. Early voting activity increased by about four percent compared to the previous general election.
The overall voter turnout was 72 percent, up from 70 percent in the last general election in 2015. Korpinen told Yle that the outcome reflects the highly polarised nature of the election. "It's going to be very hard to negotiate a government, maybe the hardest ever. Anything can happen."
The election has seated a record number of female MPs in the Finnish parliament. This year women will take up 92 positions as lawmakers, up from the previous record of 85 in 2011. In addition, this year saw more women than ever among the top vote-getters.
One of Finland's new vote magnets was NCP MP Elina Lepomäki, whom punters see as a contender for party chair when party delegates meet to elect a new party leader in 2020.
Overall, around 60 foreign-background candidates vied for seats in the election, according to Statistics Finland.
With 100% of vote counted:
Social Democratic Party 40 seats
Finns Party 39
National Coalition Party 38
Centre Party 31
Green League 20
Left Alliance 16
Swedish People's & Aland Coalition 9
Christian Democrats 5
Blue Reform 0
OTHERS 2
Related stories from around the North:
Canada: Duane Smith re-elected chair of corporation representing Inuit in Canada's western Arctic, CBC News
Finland: Climate change, birth rate should be Finnish gov's top priorities: report, Yle News
Sweden: Swedish government unveils proposed spring budget, Radio Sweden
United States: Alaska governor faces tough criticism over proposed budget cuts, Alaska Public Media