Skiers who died in Arctic Norway last winter triggered avalanche: report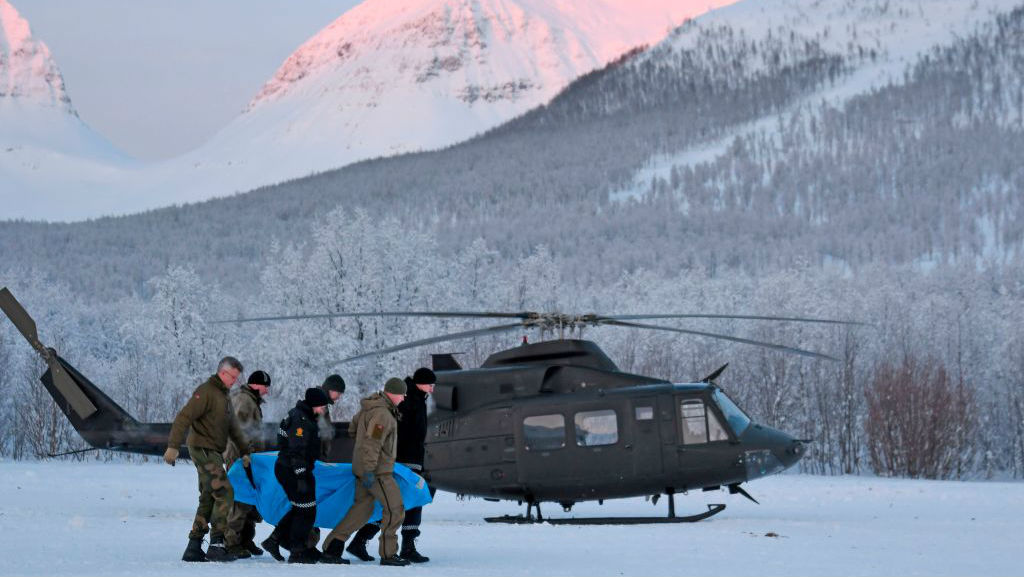 A group of skiers who went missing in the Blåbærfjellet region of Norway's Tamok Valley and were later declared dead likely triggered an avalanche that buried them as they pursued an alternative route up a mountain, according to an accident report released by Norwegian officials.
The group, which comprised three Finns and one Swede, disappeared in January. Authorities recovered the bodies of three of the four skiers, however the remains of one of the victims – a Finn – has eluded search efforts.
The skiers were said to have been moving in a group in the shadow of a steep cliff at an altitude of about 1,000 metres when the terrain above them skipped, according to the report issued by the Norwegian Geotechnical Institute NGI.
The avalanche swept the skiers along for nearly half a kilometre at a speed of over 70 kilometres an hour, eventually burying them under about two metres of snow.
NGI researchers used location data from a group member's sports watch to plot the route they had taken during the fateful trip. Geo-location data indicated that they had covered steep terrain sometimes at an angle of more than 40 degrees.
The uphill route usually used by locals to reach the upland fells circles the top of the ridge in a gentle curve, the report noted. Researchers speculated that the skiers perished long before any alarm was raised and rescue officials were contacted.
Avalanches of a similar scale and intensity occur in the same location at least once every winter, the report said. The size of the slippage was at least 200 metres wide and the snow had been about a metre thick where it broke off from the mountain.
No insight into decision-making
The report did not determine whether or not the skiers took breaks during their ascent. In addition, researchers could offer no insights into their decision-making.
"In professional circles we are reluctant to speculate about what was decided on the mountain, because no one can tell anymore," said snow safety trainer and ACMG ski guide Eeva Mäkelä.
Mäkelä, who has been involved in designing snow safety training in Finland, said that courses focus on making rational decisions and identifying human factors. Participants also get a chance to familiarise themselves with Norwegian avalanche and weather forecast services.
Rising numbers of skiers and avalanches
Freeride skiing, where athletes seek un-touched, un-groomed surfaces for their descent, has seen a rise in popularity in recent years. At the same time the number of people who've been caught up in avalanches and died has also increased.
Last winter 13 people died in avalanches in Norway, a number only previously matched in 2010. However the majority of people who end up in avalanches survive – a total of 56 people have had such close calls. Nearly two-thirds of deaths resulting from avalanches have occurred in northern Norway.
Authorities in Norway say they have records of 118 avalanches that have swept people away. Altogether a total of 64 people died in avalanches in Norway this decade – more than double the number in the previous decade. The majority of people who've lost their lives in this way have been freeride skiers.
Related stories from around the North:
Canada: Warm weather increases risk of avalanche in northwestern Canada, CBC News
Finland: Warnings in Lapland after fatal avalanche in Sweden, Yle News
Sweden: Avalanche warning to snowmobilers in Swedish mountains, Radio Sweden