Russian icebreaker leaves Tromsø to supply ice-locked German research ship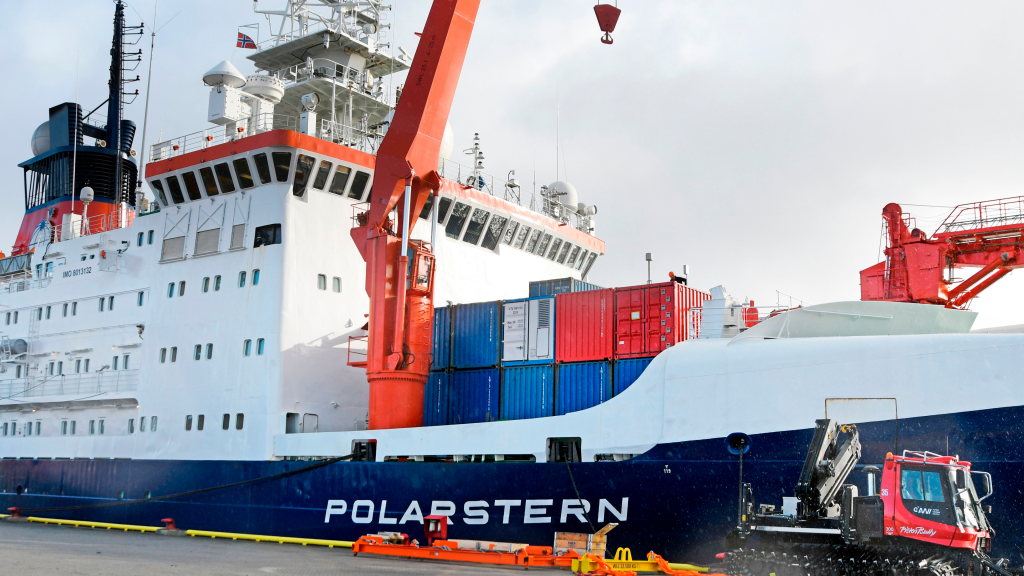 The «Kapitan Dranitsyn» is bringing equipment, supplies and 95 researchers to the «Polarstern» as part of great international research expedition MOSAiC.
The 129 meter long Russian icebreaker on 27th November set out from Tromsø, Norway, with course for icy waters near the North Pole. It is expected to arrive to the site of the «Polarstern» by mid-December.
On board the «Kapitan Dranitsyn» are loads of research equipment, supplies, as well as 95 researchers that are to swap places with the people currently onboard the «Polarstern».
The Russian ship has recently undergone a major upgrade that includes the installment of new navigation equipment, Russian port management company Rosmorport informs. The sailing to the «Polarstern» and back to Tromsø is expected to last about six weeks. It is the first of the ship's two visits to the «Polarstern» in the course of the MOSAiC.
At the helm of the ship is Captain Aleksandr Yerpulev, the sailor with more than 35 years of experience from a number of complicated Arctic icebreaker voyages.
Could help Børge Ousland
As the «Kapitan Dranitsyn» sails through the Barents Sea a dramatic situation is unfolding with another Arctic expedition. On 82 degrees north in waters north of Svalbard, explorers Berge Ousland and Mike Horn are struggling to make their way back from the North Pole.
Potentially, the «Kapitan Dranitsyn» could come to the rescue of the two explorers should their situation get critical. Norwegian research ship «Lance» is in the area to assist the two men, but this morning got stuck in the ice, VG reported.
The MOSAiC
On board the «Polarstern» are more than 120 people, including several teams of researchers that have been preparing for the voyage for several years. It is the most comprehensive Arctic expedition ever, with a total budget of more than €140 million.
The German research vessel is now located at about 86 degrees North.
The ship, a German-built icebreaker operated by the Alfred Wegener Institute for Polar and Marine Research (AWI), in early October this year sailed deep into the ice and has subsequently drifted with the ice.
In the course of the expedition, up to 600 experts will be on board the vessel, and be exchanged in phases. In addition, around 300 people will work in the background to make the expedition possible.
Representatives of 19 countries take part in the MOSAiC.
Four icebreakers from Russia, Sweden and China will assist the «Polarstern» in the course of the year. Among them will the new Chinese icebreaker «Xue Long 2». In spring 2020, a landing strip will be built on the Arctic ice, to serve German research aircrafts Polar 5 and Polar 6.
The MOSAiC will contribute to a quantum leap in our understanding of the coupled Arctic climate system and its representation in global climate models, lead scientist Markus Rex said in a presentation in May 2019.
Related stories from around the North:
Antarctica: Could snow cannons in Antarctica help avert catastrophic sea level rise?, Eye on the Arctic
Canada: We'll see an 'ice-free' Arctic this century, says latest research, CBC News
Finland: Finnish EU presidency to work on stronger Arctic policy, climate change mitigation, Yle News
Greenland: Documentary will show climate change through eyes of pioneering scientist, Mia Bennett – Blog
Iceland: Geoengineering climate fixes popular at Arctic Circle assembly, Mia Bennett – Blog
Norway: Twin science projects seek to understand impacts of Arctic climate change, Radio Canada International
Russia: Warmest October ever on Russia's Arctic islands, The Independent Barents Observer
Sweden: Over 11,000 scientists sign statement warning of climate emergency, Radio Sweden
United States: Alaska Federation of Natives declares climate emergency, Alaska Public Media