"Art was like a therapy for me" — Canadian artist Manasie Akpaliapik reflects on work, life & his solo exhibition in Quebec City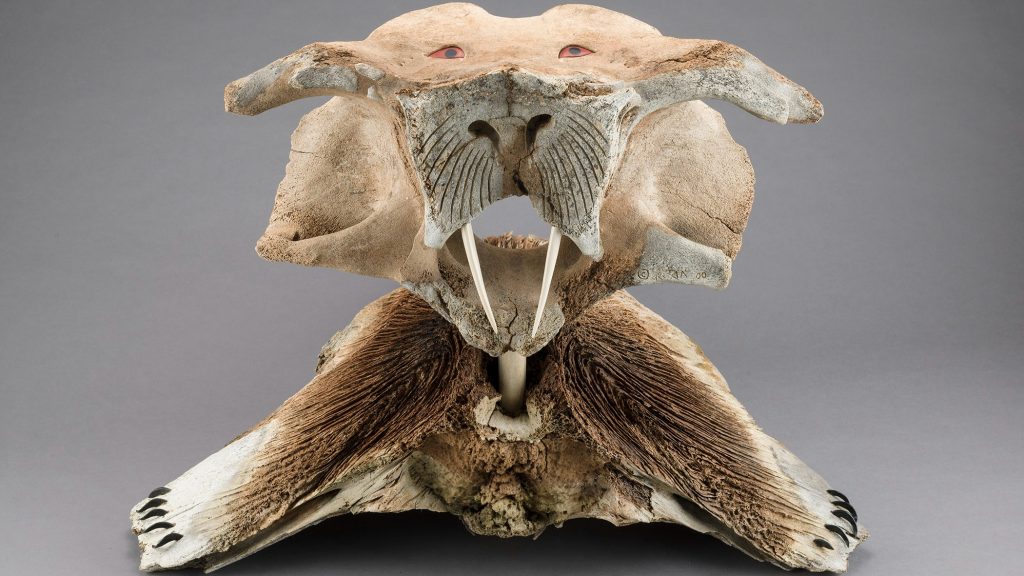 Manasie Akpaliapik still remembers how he felt when he found out he'd be the first Inuk artist to have solo exhibition at the Musée national des beaux-arts du Québec (MNBAQ).
"Incredible, just incredible,"  Akpaliapik said in a phone interview.  "I'm so happy and so lucky to be experiencing this."
But Akpaliapik is quick to note that he sees it not just as an important milestone for him, but for Inuit art more broadly.
"Inuit art is evolving," he said.  "At the beginning the tools were very limited. Just a file and a hack saw. There was no electrical stuff, so the shapes were different. Now we're getting into more detail and venturing out further and further in what we do. There are going to be more and more good Inuit artists coming out all the time. They know how important it is to keep our traditions alive."
Manasie Akpaliapik. Univers inuit. La collection Raymond Brousseau opened June 18 in Quebec City.
The exhibition features 40 of the artist's sculptures produced between 1997 and 2003. The majority of the works are from the museum's Raymond Brousseau Collection. Brousseau was a collector and Inuit art dealer in Quebec City who donated 2,635 works from his collection to the MNBAQ in 2005 and was a huge supporter of Akpaliapik's work.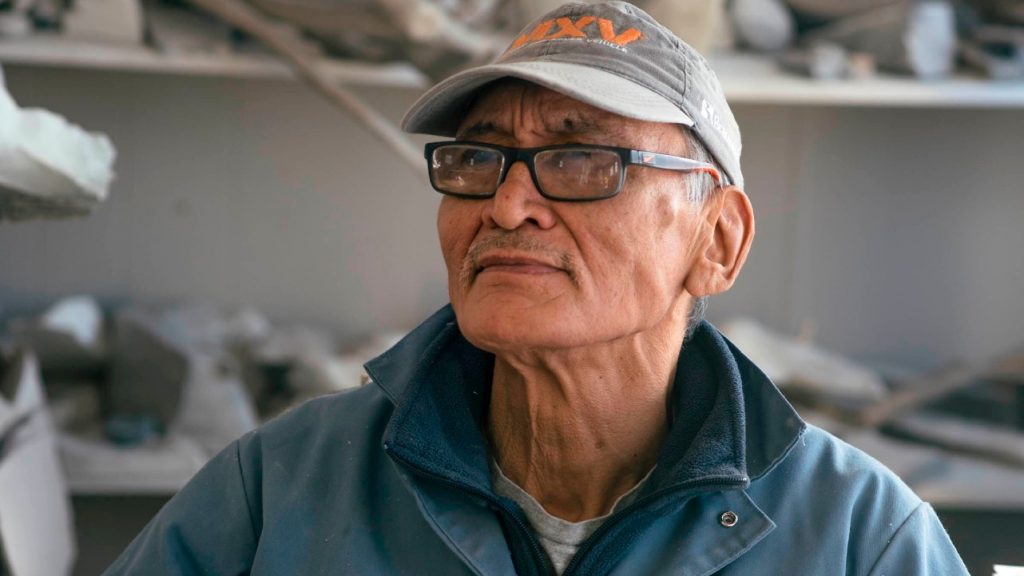 Daniel Drouin, curator of the exhibition, describes visitor reaction to the Akpaliapik exhibit as  "total wonderment."
"Manasie Akpaliapik is considered by many of his peers and by many collectors and museums as the most important Inuk sculptor in Canada," Drouin said in a phone interview from Quebec City.
'Every sculpture tells a story'
The majority of the sculptures feature whale bone, a material that remains Akpaliapik's favourite.
"I can work with stone as well, but I like to work with whale bones because they have different textures and colorations that  give you a lot of ideas," he said.
"I try not to impose my ideas on the material too much. I follow the material and how it is alive and wants to be this way or that way."
Akpaliapik's subject matter ranges from Arctic legends, to wildlife.
"I hope people can see, and understand how we live and how we lived in the Arctic," he said. "The animals, the beliefs, the drum dances and other stuff like that. It feels so good to be able to present it."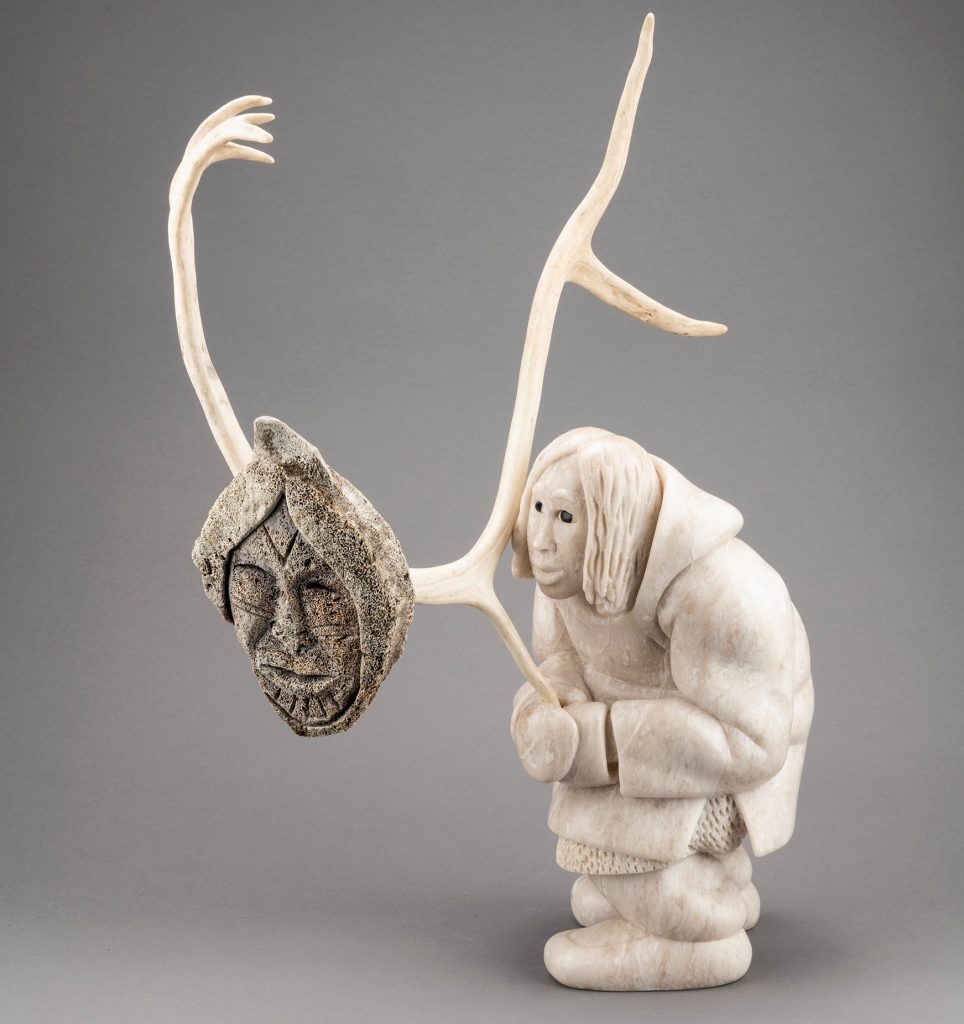 Drouin says Akpaliapik's talent in telling these stories through sculpture is part of what makes his work so resonant. 
"Manasie Akpaliapik is proud of his culture and roots," he said. "Through his art, he's able to leave a legacy to the next generation. Every one of his sculptures tells its own story."
Art as companion
Akpaliapik says in addition to his subject matter, he'd also like people to consider the quality of his work as his hallmark.
"Workmanship is the key for me,"Akpaliapik said. "I try to make everything as clean as possible and my philosophy is to do my best."
Akpaliapik, now 65, says art has been a constant companion throughout his life.
He grew up learning sculpture from his grandfather in Arctic Bay, a community in Canada's Far North, in what is now Nunavut territory.
Later on, when down South for college upgrading in Winnipeg, he remembered what he'd learned from his grandfather and started carving muskox to help make ends meet.
But it was a family tragedy that drove him to art in a serious way, he said, and something he still credits with helping him recover.
"I lost my wife and two children in a house fire in 1989. I was working at a mine just outside of Resolute Bay and every time I went back home, people were sympathetic to me and I couldn't handle it anymore. I just wanted to go somewhere where nobody knew what happened to me."
Akpaliapik went to Montreal, started seeing a counselor and says his artwork was an important stepping stone towards processing his loss.
"The thing I learned from my grandpa is how peaceful it is when you're working with sculptures and telling stories," Akpaliapik said. "In Montreal, sculpture gave me something to work on with my mind.
"Art helped me to cope with the tragedy. Art was like a therapy for me."
Travelling exhibition in the works
Manasie Akpaliapik. Univers inuit. La collection Raymond Brousseau runs until February 12, 2023.
Plans are also currently underway to have the exhibit travel to other parts of Canada.
Information on the exhibit is available on the museum's website.
Write to Eilís at eilis.quinn@cbc.ca 
Related stories from around the North: 
Canada: Winnipeg Art Gallery (WAG)-Qaumajuq in Canada launches interactive digital platform for Inuit carvings, Eye on the Arctic