Finland slashes bear hunting quota by one third, 20 fewer permits in North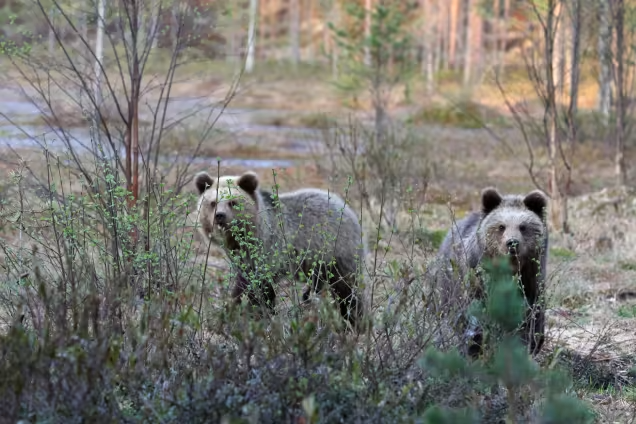 Finland's bear population has risen to as much as 2,400, but fluctuates as animals move across the Russian border.
Finland's bear hunting quota will be lowered by about a third this year. The Ministry of Agriculture and Forestry has set the quota for the upcoming season at just under 350 bears, down from 460 last year. The hunting season is from 20 August until the end of October.
In recent years, more culling permits have been issued than before in an effort to control the growth of the bear population.
"This goal has now been achieved, and in future the focus of population regulation will be on stabilising the size of the bear population," the ministry said on Friday.
Natural Resources Institute Finland (Luke) estimates that there are now between 2,250–2,400 bears in Finland, twice as many in the early 2000s.
The number rebounded to nearly the current level by 2010, then fell sharply for several years. It has been growing more or less steadily since 2014.
The population levels fluctuate as animals move back and forth across borders, primarily the 1300-kilometre Russian frontier. The migration of bears across the border has increased the genetic diversity of the population in Finland.
There has long been pressure in Finland to limit the bear population due to predation on livestock, primarily semi-domesticated reindeer.
Last year about 750 reindeer deaths were attributed to bears, down from about 890 the year before. The state paid reindeer herders 1.5 million euros in compensation for losses, along with much smaller compensations paid for damage to beehives and crops, for instance.
The Finnish Wildlife Agency is to decide on the precise allocation of permits.
Permits to shoot 70 bears will be issued for the reindeer herding areas of northern Finland, 20 fewer than last year. Most of these will be provided for the eastern reindeer management area. It includes half a dozen Lapland municipalities along the Russian border as well as Pelkosenniemi.
Mothers and young cubs off-limits
Mothers with cubs, and cubs under one year old, are protected from hunters. About 63 percent of bears shot are male and are usually relatively young. This is partly because many adult males move from eastern Finland to the Russian side before the start of the hunting season.