Canadian Coast Guard launches Arctic icebreaking season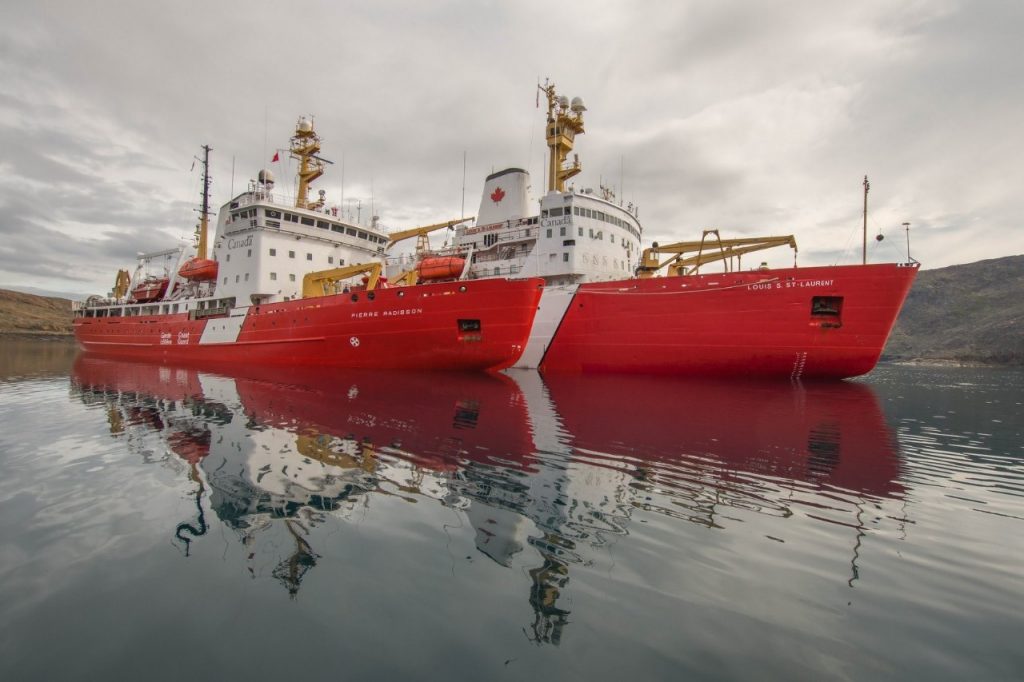 The Canadian Coast Guard's annual icebreaking season is now underway, and will see eight vessels travelling to the country's northernmost regions. 
"CCG ships and their dedicated crews are ready to assist the shipping industry during the annual Arctic resupply missions," the Coast Guard said in a statement. 
"Safe and efficient navigation in Arctic waters is maintained throughout the shipping season by providing daily updates on ice conditions and operations, as well as ice escorts, when needed, to industry and partners."
The responsibilities of the Canadian Coast Guard in the Arctic include search and rescue, icebreaking, and support for things like scientific research, marine communications and traffic services, navigation, marine environmental response and the summer re-supply of northern communities.
The first three icebreakers headed off in June, with the CCGS Vincent Massey leaving Quebec City for Frobisher Bay in Nunavut and the Hudson Strait between Nunavik and Baffin Island; the CCGS Pierre Radisson leaving from Quebec City, for the Killiniq weather and communication station, commissioning aids to navigation in the Hudson Strait and refueling Eureka station, science, and Canadian Hydrographic Service (CHS) surveys.  
The CCGS Terry Fox departed St.John's, in Newfoundland and Labrador for Operation Pacer Goose, the annual resupply of the Pituffik Space Base (formerly known as the US Thule Air Base) in Greenland, but was called on to join the search and rescue operation for the OceansGate submersible last week. (No one from the Coast Guard could be immediately be reached on Monday to see if that would change the vessel's operations in Greenland.)
Icebreakers involved in the 2023 season
The eight Canadian Coast Guard icebreakers deployed to the Arctic this year:
CCGS 

Terry Fox
CCGS Pierre Radisson
CCGS Des Groseilliers
CCGS Sir Wilfrid Laurier
CCGS Henry Larsen
CCGS Louis S. St-Laurent
CCGS Amundsen

CCGS 

Vincent Massey
Nunavut centres opened
The coast guard also has a temporary Arctic Marine Response Station in Rankin Inlet, a community in the eastern Arctic territory of Nunavut, which was opened on Friday and will operate until October:
News from the #Arctic: Our Marine Response Station in #Rankin Inlet, #Nunavut, is open for the season. From June to October, crews will provide #SearchAndRescue services in the area during the open water season. For full details, visit https://t.co/2leArWDXW9 pic.twitter.com/6MrMTsJ0ou

— Canadian Coast Guard (@CoastGuardCAN) June 23, 2023
In Iqaluit, the Coast Guard also has a seasonal Marine Communication and Traffic Services centre that opened on May 15 where officers respond to distress calls, manage the Northern Canada Vessel Traffic Services Zone Regulations and broadcast weather and ice information. 
The Iqaluit centre will remain open until mid-December after which the Marine Communication and Traffic Services Les Escoumins, Quebec will take over until Iqaluit opens again next year. 
"Throughout the season, a number of federal government and academic researchers, plus hydrographers, will join CCG ships to carry out new or ongoing scientific projects and hydrographic surveys. CCG will also carry out joint training operations with national and international Arctic partners," the Coast Guard said.
"As schedules and opportunities permit, crews will engage in training and equipment familiarization with Canadian Coast Guard Auxiliaries, such as search and rescue and/or environmental response activities. Such opportunities allow crews and communities to build relationships and exchange maritime knowledge with each other."
News from the #Arctic: Our annual season is underway. Each #summer, icebreakers head north to support northern communities, a wide range of programs, and various science missions. For full details on this year's operations, visit https://t.co/dJeoNs41d4 pic.twitter.com/FtXNvJTHrJ

— Canadian Coast Guard (@CoastGuardCAN) June 22, 2023
The Arctic icebreaking season in Canada runs until November.
Comments, tips or story ideas? Contact Eilís at eilis.quinn(at)cbc.ca 
Related stories from around the North:  
Canada: Canada needs a 'more consistent' presence in North to bolster security, Inuit leader says, CBC Radio
Finland: Icebreaking season begins in Finland, Yle News
Iceland: Iceland authorizes U.S. submarine service visits, Eye on the Arctic
Russia: Russia's new Navy icebreaker steers clear of Arctic waters, The Independent Barents Observer
Sweden: Russian spy ships surveying Nordic energy infrastructure, Radio Sweden
United States: 'Uber for icebreakers' idea gains traction in U.S. Senate, Alaska Public Media