Up to 50 vehicles planning illegal return to Yellowknife, say RCMP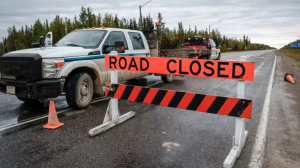 Northwest Territories RCMP say they've received "credible" information about a group of people in up to 50 vehicles who are planning to drive up from Alberta and re-enter Yellowknife, and that "they will not stop for the checkpoints." 
The RCMP are strongly condemning this action, stating in a Wednesday news release that it's not safe to return to any community under an evacuation order.
"Trying to return now puts you at risk," said RCMP spokesperson Cpl. Matt Halstead. 
"There have been extended highway closures due to active wildfire activity, poor visibility and there is a lack of emergency services to respond to a collision or medical emergency while people are in transit," Halstead wrote.
Hgihway 1, from the Alberta border to Enterprise, remained closed this morning due to smoke.
The southbound lane of Highway 3 between Yellowknife and Behchokǫ̀ is open. The northbound lane toward Yellowknife is closed to everyone except emergency and essential workers.̀
"Importantly, if you are not approved for re-entry, you will be turned away," Halstead wrote. "Anyone who engages in activity that risks the safety of Department of Infrastructure staff or RCMP officers at the checkpoints may face prosecution."  
Yellowknife and the neighbouring communities of Ndilǫ and Dettah have been under an evacuation order due to a nearby wildfire since Aug. 16. Fort Smith, Enterprise, Hay River, Kátł'odeeche First Nation, Kakisa and Jean Marie River have also been evacuated because of wildfires and a territory-wide state of emergency is in effect.
RCMP say the evacuated communities are not ready for the return of residents, and that the limited resources they have are meant to support firefighters and essential workers.
Police can charge people for violating evacuation orders under the territory's Emergency Management Act. The maximum penalties are a jail term of up to one year or a fine of up to $5,000.
Halstead said the potential for prosecution depends on the circumstances.
"In the event that someone were to try and force their way through a checkstop it could be a combination of criminal charges and charges under the Emergency Management Act," he wrote in an email to CBC.
"The RCMP hope that any plans relating to an attempt to return without authorization are abandoned. This type of activity is the last thing the Northwest Territories and the people working to protect communities need right now."
Alberta and N.W.T. RCMP are also investigating. 
With files from Sara Minogue
Related stories from around the North: 
Canada: Smoky weather and favourable winds limit wildfire activity near Hay River, CBC News
Norway: Smoke from Canadian wildfires forecast to reach Norway, The Associated Press
Russia: New NOAA report finds vast Siberian wildfires linked to Arctic warming, The Associated Press
United States: Wildfires in Anchorage? Climate change sparks disaster fears, The Associated Press