N.W.T. gov't warns Enterprise mayor not to use hamlet funds for new homes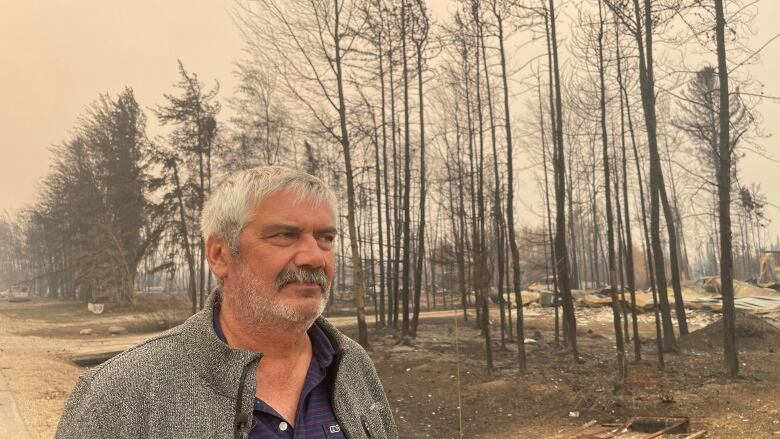 'We are not in a position to help people. That's what we were told, basically,' says Mayor Michael St Amour
The mayor of wildfire-devastated Enterprise, N.W.T., says his relations with the territorial government have become "tense, at best" after the hamlet council was warned not to purchase homes or disburse money to now-homeless residents.
The hamlet's evacuation order was lifted on Friday and some residents have been making their way back to survey the damage.
Mayor Michael St Amour says 40 homes in the community were destroyed by last month's fire. Nine buildings in the community of about 120 are still standing.
Speaking to CBC's The Trailbreaker on Monday, St. Amour said the hamlet had begun pricing modular homes as an option for those who lost their homes. But St Amour said the territory's department of Municipal and Community Affairs (MACA) soon put a stop to that.
"We are not in a position to help people. That's what we were told, basically," St Amour said.
"We don't have any funds eligible for housing, so we'd be dipping into our surplus and into our capital dollars. And we're not allowed, according to MACA."
Letters sent by Municipal and Community Affairs Minister Shane Thompson on Sept. 21 and 22 outline concerns the department has with the hamlet's actions.
The hamlet has said it is providing biweekly subsidies to residents who are displaced. Those subsidies are now on hold after Thompson's latest letters.
On Sept. 21, Thompson questioned $270,000 the hamlet had provided to residents to help them cover the costs of being evacuated — money far and above the $16,900 the hamlet was authorized to grant its residents.
Thompson also references a further $90,000 approved by hamlet council during a meeting on Sept. 20 for residents, as well as authorization from council for the senior administrative officer to purchase 10 new homes for residents.
Thompson called it "very concerning information" and a "serious violation" of what's allowed.
"In addition, councillors voting on providing private housing that they may personally benefit from raises troubling conflict of interest concerns," he wrote.
"I am currently examining options available to me, given the seriousness of council's actions."
Thompson's follow-up email on Sept. 22 says the hamlet council's Sept. 20 meeting was "illegal" because the hamlet didn't give residents 48 hours notice that it was happening.
If councillors decide to hold that meeting again after giving legal notice, Thompson said they should be careful not to authorize the purchase of homes.
"If council were to make this decision, it would be such a serious violation and misuse of community funding that I would be forced to put the hamlet under administration for failing to perform its duties as outlined in the Hamlets Act," he wrote — an action that would functionally render the council powerless and transfer authority to someone appointed by MACA.
'Frustrating and disappointing'
In a notice to residents Monday, the hamlet wrote that the news is "frustrating and disappointing." Residents who were expecting subsidy payments this week won't get them, it said.
"We want you to know that the hamlet continues to support its residents 100 per cent, and will continue to do whatever it can to assist," it wrote.
St Amour told CBC News that the territory's warnings made him "really upset."
"I had to take a walk. And now I am trying to figure out what our next steps are."
St Amour says he's waiting to hear what the territorial government will do to help those Enterprise residents who lost everything, and can't wait many months for a new home.
"We need an action plan that is time sensitive because we want people back here. Right now I don't see it happening till Christmas," St Amour said.
The mayor is also looking to Ottawa for help.
"The territorial and the federal governments need to step up. We're sending millions of dollars overseas to help unfortunate countries, but this is a an unfortunate situation that needs to be resolved."
Minister Thompson was not available for an interview on Monday.