Eve Jolicoeur has a typical French-Canadian name.
And even though she teaches French for a living, Jolicoeur is neither French nor Canadian.
Jolicoeur was born in Haiti, grew up in Chicago, has lived in France and the Czech Republic, and for the last 20 years calls Montreal home.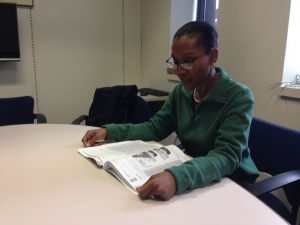 "Since I grew up in Chicago, I believe I have a mentality of an American girl," Jolicoeur says. "I grew doing what most American girls would want to do: I was a cheerleader for football games in high school, I think I'm very much influenced by the American culture."
What she loves about Montreal is the mix of European and North American cultures, Jolicoeur says.
But despite her native fluency in French and her love of Quebec culture, she's finding it difficult adjusting to life in the province, Jolicoeur says.
"What I find the most challenging here in Quebec is that like in France you have so many immigrants but here I believe that you're not as accepted," Jolicoeur says.
Jolicoeur says the dissonance between her very French-Canadian name and her appearance and the slight Haitian-American accent when she speaks French generates a lot of questions about her origins.
Still she doesn't take the racism she encounters personally, Jolicoeur says. She attributes it to lack of education and life experience.
"Whether I lived in Europe, whether I live in Canada or the United States, if people want to judge me by race, yes I am Black but profoundly I identify myself as a citizen of the world," Jolicoeur says. "When people get to know me, they realize I am more than just my race."
Despite all the difficulties and some of the prejudices she has encountered, Jolicoeur says she doesn't regret for a second her decision to move to Canada.
Jolicoeur has one advice for her students who have immigrated to Quebec, "Learn some French."