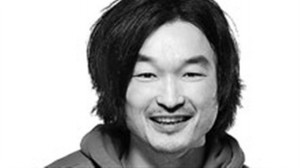 'Kim's Convenience' is a play about a Korean father struggling with the changes in his family as well as their immigrant neighbourhood in Toronto.
Ins Choi, the playwright and one of the main characters, said it's not biographical, but a blend of many people he knew growing up.  He describes, Appa,  the fiery and hilarious patriarch, as a mix of his father and several of the men in his family's church and his uncle who had a convenience store.
The play was a big hit at Toronto's Fringe Theatre Festival in 2011.  Ins Choi won the New Play Contest and the Patron's Pick award that year.  Then the play was a hit at the Soulpepper Theatre, garnering more nominations and the Toronto Theatre Critics trophy for best new Canadian play.
Now the play, directed by Weyni Mengesha, is on a national tour of Canada, and according to its creator, is in development as a television comedy series, though he won't expand on the details yet.
It may also get a run in Honolulu. Daniel Dae Kim, one of the stars of the television show, Hawaii Five-0, saw the play recently in Toronto and is very enthusiastic about a Hawaiian premiere.
Ins Choi, who plays the estranged son, said "I wrote it so that I could have a job, so I could get paid, so there would be a vehicle for me, because no one else is writing a vehicle for me."
The show is now running in Port Hope, Ontario.  The next stop is Calgary from September 3rd to the 29th, followed by runs in Hamilton, Ottawa, Winnipeg and Vancouver.