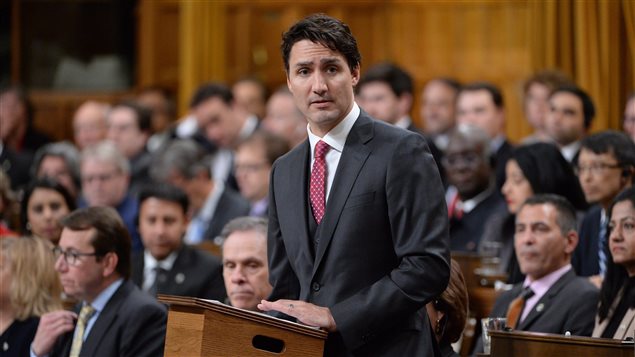 Prime Minister Justin Trudeau has formally apologized in the House of Commons for a 1914 government decision that barred hundreds of passengers of a steamship from India from entering Canada and forced them to return to a tragic fate.
"Canada cannot solely be blamed for every tragic mistake that occurred with the Komagata Maru and its passengers," Trudeau said. "But Canada's government was, without question, responsible for the laws that prevented these passengers from immigrating peacefully and securely. For that, and for every regrettable consequence that followed, we are sorry."
The Komagata Maru incident is a stain on Canada's past, Trudeau said.
Racist laws
The Komagata Maru steamship arrived on Canada's West Coast on May 23, 1914, anchoring in Vancouver's Coal Harbour. It was carrying 376 Indian passengers, most of them Sikhs, bound for what they thought would be a new life in Canada.
They were hoping to challenge the immigration laws that where specifically designed to keep away Asian migrants by refusing entry to any Indians who had not arrived in Canada via a continuous journey from the home country, which was nearly impossible at the time.
Canadian officials refused to allow the Indians in, even though they were British subjects just like every other Canadian of the time.
Tragic fate
After 20 passengers who had previously lived in Canada were allowed to disembark, the ship was turned away.
The Komagata Maru was formally ordered out on July 19. Four days later under the guns of the naval cruiser HMCS Rainbow, the ship was escorted out to sea and began the journey to Calcutta.
It returned to India, where 19 of the passengers were killed in a skirmish with British authorities and dozens of others were imprisoned or forced into hiding.
Opposition voices
Leaders of the opposition parties in Parliament also rose to add their voices to the apology and to offer their own remarks.
"Today is a historic day for Canadians, as we recognize the Komagata Maru incident in the House of Commons with an apology," said interim Official Opposition Leader, Conservative MP Rona Ambrose. "It is important that Canada acknowledges our wrongdoings of the past, as we have always stood up for social injustices at home and abroad."
Outgoing Leader of the left-of-centre New Democratic Party Tom Mulcair said the Komagata Maru incident "was the result of racist and discriminatory laws, much like the Chinese Head Tax, designed to exclude entire groups of people from Canada."
Trudeau's formal apology is the second from a Canadian prime minister. Former Prime Minister Stephen Harper delivered an apology in 2008 in British Columbia, not the House of Commons.
Trudeau, whose cabinet has three Sikh ministers, including Canada's Defence Minister Harjit Singh Sajjan, promised the Commons apology during the last election campaign.
The B.C. legislature passed its own resolution apologizing in May 2008.
With files from The Canadian Press and CBC News