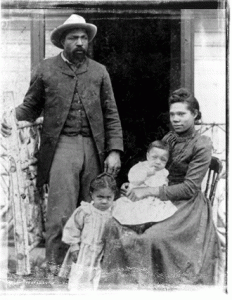 John Ware looms large in the small field of Black history in Alberta.
He was a big man, a cowboy who played an important role in the early days of the ranching industry.
Born into slavery in the southern United States, John Ware came to Alberta after the US Civil War and the emancipation of slaves.
He died in 1905. Today he's remembered as a larger than life figure, and honoured in his
adopted home. In Calgary there's a school named after him, and Canada Post recently issued
a commemorative stamp to honour John Ware.
Now, Calgary author and historian Cheryl Foggo thinks the time has come to dig a little more deeply into the story of John Ware and his family.
As part of the Black History Month celebrations in Calgary, she recently premiered a multi-media piece about John and Mildred Ware.
Credits
Report by Frank Rackow
The Link