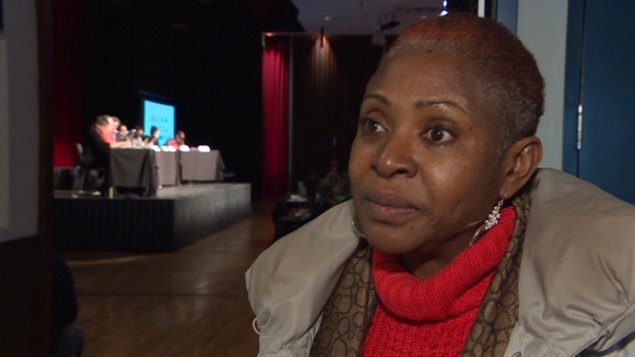 Black students in Canada are not doing well, and according to Professor Afua Cooper, the statistics are a "national disgrace".
'School to prison pipeline'
Professor Cooper, a scholar, author and Dub poet, is the James Robinson Johnston Chair in Black Canadian Studies. Her mission is to raise the profile of African Nova Scotian history to Nova Scotians and Canadians. But she is not optimistic.
Professor Cooper says with drop-out rates of up to 60 per cent for young black people, there is a problem. But of even greater concern to Professor Cooper, is that there is no alarm being raised.  She says researchers at places such as OISE are now speaking in terms of the 'school to prison pipeline'.  She says prisons, in fact, are the only place of racial equity, from her observation.
We're losing generations of young people and their future's are being blighted.
"Twenty years ago we heard some discourse; today we're hearing the same thing.  We're hearing students saying teachers don't call on them when they raise their hand.  We're hearing students saying when they write an essay and take it in and it's a top-notch essay, teachers will say are you sure you wrote that?  We're seeing people being passed through the ranks, moving on through the grades without being able to read properly, without having proper numeracy skills, or adequate numeracy skills.  So something is wrong; the system is rotten." according to Cooper.
Black children, by and large in the Canadian school system are allowed to fail.
Afua Cooper says it is not an issue of money. "If you look at a school board like Toronto… the Toronto District School Board… their budget is two billion dollars a year. Two billion!  So you're spending a lot of money and there's specific populations that are failing. Somebody needs to be held accountable, and that's not happening."
It's this idea that comes from the time of slavery that black people are intellectually inferior.
Afua Cooper grew up and was educated in Jamaica. She says she was encouraged and understood from the beginning she could do and be whatever she wanted. And she was expected to excel.
She says black children in Canada are allowed to fail, and built-in to the education systems, many young students are funnelled in that direction by being consistently installed in remedial classes to maintain funding.
Afua Cooper says even with pro-active cultural initiatives, such as Black History Month, black youth are not feeling very engaged. Many schools are dropping the lessons and events that highlight Black-Canadian heritage as part of the school year each February.