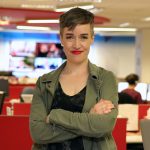 Eilís Quinn, Eye on the Arctic
Eilís Quinn is a journalist and manages Radio Canada International's Eye on the Arctic news cooperation project.
Eilís has reported from the Arctic regions of all eight circumpolar countries and has produced numerous documentary and multimedia series about climate change and the issues facing Indigenous peoples in the North.
Her investigative report "Death in the Arctic: A community grieves, a father fights for change," about the violent death of Robert Adams, a 19-year-old Inuk man from Arctic Quebec, received an honourable mention for excellence in reporting on violence and trauma at the 2019 Dart Awards in New York City.
Her multimedia project on the health challenges in the Canadian Arctic, "Bridging the Divide," was a finalist at the 2012 Webby Awards.
Eilís has worked for media organizations in Canada and the United States and as a TV host for the Discovery/BBC Worldwide series "Best in China."
Twitter: @Arctic_EQ
Email: eilis.quinn(at)cbc.ca