Iqaluit to Cape Dorset (Kinngait)- We finally made it to Cape Dorset. Our plane was late (of course it was). But we made it.
And in what can only be considered a good omen, who do we run across at the airport as we're waiting for a lift to our Cape Dorset hotel?
Why Jimmy, the awesome translator, and renowned artist Kananginak Pootoogook on their way to Vancouver.
While Kananginak checked a big package of country food in at the baggage desk, Jimmy apologized; for not being available and for the fact that Liina was gone too. He said he'd left some notes for me at Kinngait Studios to help us out anyway.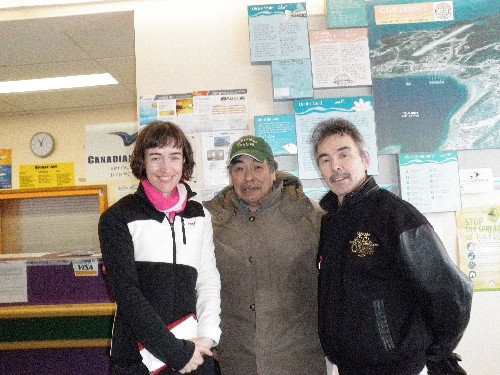 He wished me luck with the story and rushed on to the flight with Kananginak.
I'm sorry to see them go. Kananginak, 75, along with Kenojuak Ashevak, 82, is one of only two original Kinngait Studio artists still alive. It's hard to miss out on the chance to interview him– especially on film. He's one of the most important Canadian artists of his generation and he gets far too little coverage.
Oh well. As they say, maybe some day.