Shell Promises Arctic Drilling will be Safe
Critics say company still not equipped to handle remote spill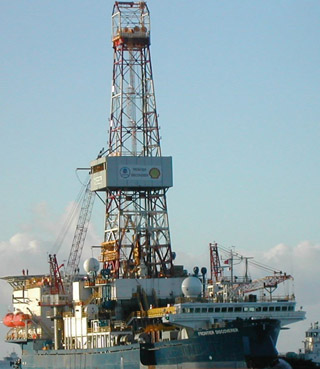 Shell Oil Co. will take additional steps to ensure the safety of exploratory drilling it plans in the Arctic this summer off a coast Alaska shares with Yukon and the Northwest Territories, the company has told U.S. regulators.
In a letter to federal regulators last Friday, Shell president Marvin Odum outlined nine additional measures from the company's original proposal.
Critics say the company still isn't equipped to clean up a spill in the remote waters off Alaska's northern coast, and drilling should be delayed.
Odum outlined Shell's measures in a letter to Elizabeth Birnbaum, the minerals management service director, with the U.S. Interior Department.
She requested the information earlier this month after the BP oil rig Deepwater Horizon exploded and began spewing oil into the Gulf of Mexico.
Shell said it plans to build a "prefabricated coffer dam," an apparatus that could be lowered to a well to halt a leak. This would be similar to the structure BP used in efforts to stop the Gulf of Mexico spill but would be ready onshore.
Shell also promised to double how often it tests its blowout preventer, from every 14 days to every seven days.
The company would also design a "remote hot stab system," which would allow a remotely operated vehicle, diver or support vessel to activate the blowout preventer through a cable from a sled on the sea floor a safe distance from the well, Odum said.
"If needed, we will also apply dispersant underwater at the source of any oil flow that might occur," he said.
"The Deepwater Horizon was drilling in 5,000 feet [about 1,524 metres] of water to a depth of 18,000 feet [5,486 metres]," he said. "This type of well is technically more complex than those wells planned in the Arctic for 2010.
Pressure in the Gulf well was two to three times greater than what Shell expects in Alaska, Odum said.
Arctic drilling shallower
The water depth Shell plans to drill in is much shallower than where the Deepwater Horizon operated, at 46 metres compared to more than 1,500 in the Gulf.
And the depth of the wells below the sea floor would be at most about 3,000 metres compared to the Deepwater Horizon's well, which was 5,500 metres deep.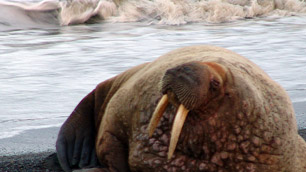 But Marilyn Heiman, U.S. Arctic program director for the Pew Environment Group, said Shell is still not prepared to respond to a major spill.
The company instead emphasizes its previous claim that the chance for a blowout is slim, she said.
"On spill response, there's not much different than what they have in place," she said of Odum's letter.
In the Gulf of Mexico, 13,000 people and 520 vessels are responding with 430,000 metres of boom and half a million barrels of dispersant.
In Alaska, the nearest coast guard station is 1,609 kilometres from Shell's leases, Heiman said.
"Their plan does not come close to that, and to get anything near those numbers into the remote Arctic Ocean would be virtually impossible."
Shell, which is the U.S. arm of Royal Dutch Shell PLC, spent $2.1 billion US two years ago for leases in the Chukchi Sea and the Beaufort Sea, off northwest and northern Alaska.
The MMS estimated the area contains 15 billion barrels of recoverable oil and close to 81 billion gigajoules of natural gas.
Shell has invested about $3.5 billion since 2005 exploring the area. Other companies with leases include ConocoPhillips, Norway's Statoil, Italy's Eni and Spain's Repsol.
Inuvialuit seek halt to drilling licences
Meanwhile, the Inuvialuit Regional Corp., which represents the western Arctic Inuit, is urging the Canadian government to stop issuing offshore exploration licences because of concerns that oil and gas companies are not able to adequately prevent or respond to spills in the Beaufort Sea.
The Inuvialuit have also asked the Indian and Northern Affairs Department and the National Energy Board to withhold offshore drilling approvals to companies that now hold licences in the sea.
Inuvialuit president Nellie Cournoyea said she has a lot of questions about new drilling and spill-related technologies.
"They have brought us up to date on the 'alternate well kill' system and no one has really been quite comfortable with that, because we're talking about an area where it's outside the comfort zone," she told CBC News on Wednesday.
"It's in deeper waters of the Beaufort, and it's very sensitive ecosystems up in that region. So we just want to put it on the record where we stand with this."
Cournoyea said new exploration licences should be issued only when governments and industry can demonstrate that blowouts can be prevented in the Beaufort Sea.
Furthermore, companies should prove that once drilling takes place, they can stop the flow of oil and clean up any mess quickly and effectively, she added.
With files from The Associated Press