Canadian Arctic Ship Rules Keep Iqaluit Coast Guard Busy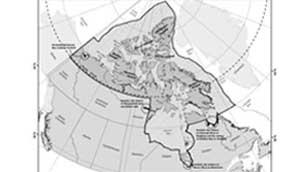 New rules for ships entering Canada's Arctic mean more work for officers at the Canadian Coast Guard station in Iqaluit.
Since July 1, all large vessels sailing into northern Canadian waters — in a designated area known as the NORDREG zone — must provide Canadian authorities with information such as the ship's ice class, where they are going, how much oil they are carrying, and whether they have any hazardous materials on board.
The new federal regulations, which apply to ships over 300 tonnes, were introduced after parliamentary committees called on Ottawa to make it mandatory for vessels to register with the coast guard, which was previously voluntary.
Making registration mandatory has added to the responsibilities of the Iqaluit coast guard station, which keeps an eye on every known ship from Greenland to Alaska, including vessels in James Bay, Hudson Bay and Ungava Bay.
On Tuesday, about 28 ships in or near Canadian Arctic waters were on the coast guard station's radar.
"It's a lot for this time of the year," coast guard communications officer Louis Robert told CBC News.
The small crew at the Iqaluit station is gearing up for what could be their busiest season. Commanding officer Jean-Pierre Lenhert said upwards of 75 ships could be in Canadian Arctic waters at any given point this summer.
Fishing vessels must register
Robert said part of the increase comes from fishing vessels, which did not have to register with the coast guard under the voluntary system but are now required to do so.
"Fishing vessels were exempted and they're not this year, so it makes a big difference for us," he said.
Lenhert said the growing amount of Arctic marine traffic in recent years could affect the coast guard station, which is usually open from June until November every year.
"We always left at the end of the commercial shipping season," Lenhert said. "Now with the fishing vessels, we know that the fishing vessels … are staying much longer."
Lenhert said with more ships entering the Arctic each year, the Iqaluit station may have to stay open longer, or vessels may have to report to the coast guard in Ontario in the winter months.
Lenhert said 99 per cent of ships that have travelled in Canadian Arctic waters registered with the voluntary system, so he does not expect any problems now.
But not everyone has been happy with the new rules. Last week, the Baltic and International Maritime Council, whose members control two-thirds of global shipping tonnage, said mandatory registration may violate international law when it comes to ships that sail through the Northwest Passage.
Few countries agree with Canada's assertion that the Northwest Passage is a Canadian waterway.
"We'll see later on in the season how the foreign vessels will be reacting," Lenhert said.