Canadian Arctic Drilling Review Hearing From Wary Public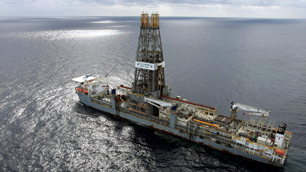 The Canadian National Energy Board's public review of Arctic offshore drilling regulations has drawn responses from people concerned about the risk of a big oil spill similar to the one in the Gulf of Mexico occurring in northern Canadian waters.
Friday is the deadline for public comment on the federal board's review, which will look at safety and environmental protection requirements for Arctic offshore drilling.
The NEB says it plans to complete the review before it considers any Arctic offshore drilling applications.
Officials say they expect to receive dozens of submissions, with the bulk of them to arrive by the end of the day Friday.
In most cases, the NEB expects to hear from oil and gas companies, governments and environmental groups that are directly involved with a proposed project.
But BP's massive oil spill in the Gulf of Mexico has prompted individuals like 17-year-old Zoe Middleton of Vancouver to voice their thoughts about Arctic drilling to the board.
"Starting new drilling just really seems like backtracking to me," Middleton told CBC News. "The Gulf of Mexico still is sort of like a giant reminder and shows what can go wrong."
About 25 per cent of the submissions sent so far come from northerners, according to the NEB. The rest come from individuals, groups and institutions outside the North, including some submissions from the United States, Norway and Kazakhstan.
Other submissions to date include ones from territorial governments, the Inuvialuit Regional Corp., the Vancouver Aquarium, the Canadian Association of Petroleum Producers, Environment Canada and the Council of Canadians.
Yukon Liberal MP Larry Bagnell, who is that party's northern issues critic, said he wants to know what the federal government will do if a private company falls short on oil spill relief efforts.
"I think there's 5,000 boats there cleaning up," Bagnell said of cleanup efforts in the Gulf of Mexico.
"We don't have 5,000 boats in the Arctic; in fact, we don't even have any ports. So, I think we have to look at that type of infrastructure as well."
The NEB will go over people's submissions in the coming weeks, then decide how to structure the review.