U.S. Hunter's Caribou May be Record Size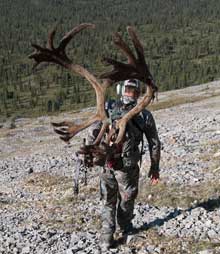 A Montana bow hunter may have claimed the largest recorded mountain caribou in the Northwest Territories, which could make it one of the largest in the world.
Mark Seacat, a professional photographer and online hunting personality, shot the giant bull caribou on Aug. 17 while accompanying his friend, longtime hunter Tom Foss, on a hunting trip in the Mackenzie Mountains.
"I mean, this is the first mountain caribou I ever saw, the first day I could ever hunt them, and the first stalk I was ever on," Seacat told CBC News in an interview Wednesday.
Seacat said he, Foss and Foss's son were leaving their base camp on the first morning of their hunt when they spotted a herd of mountain caribou in the distance.
"I hollered at Mark to grab his bow, and my son grabbed his bow, and I grabbed the video camera and we went charging off on the top of the mountain to see if we couldn't get close to him," Foss recalled of the caribou hunt.
'It's just a monster'
Seacat stalked the enormous bull until he was within range, then he took aim and killed the animal with two arrows.
"I really had no idea what kind of an animal I had," Seacat said.
Observed Foss, "It's just a monster; it's huge. I've seen a lot of caribou, but I've never seen anything that big."
Seacat said the unofficial measurements he's heard indicate it could be the second-largest bow-hunted mountain caribou on record, next to one hunted in Fire Lake, Yukon, in 2004.
The early measurements yielded a total score of 416, which is just shy of the current record measurement of 416-4/8, Seacat said.
Officials with the Pope and Young Club, an international organization that maintains big-game bow-hunting records, said Seacat's catch could very well make their record books.
"That would be an extraordinary animal," said Kevin Hisey, the club's executive secretary. "The largest from the Northwest Territories is the second-largest mountain caribou ever."
Currently, the largest mountain caribou ever harvested in the Northwest Territories was taken in 1995 near Divide Lake in the territory's South Slave region.
The club will make the official measurements of the antlers from Seacat's caribou in mid-October, Hisey said.