Ice instruments make sweet music in Oulu, Finland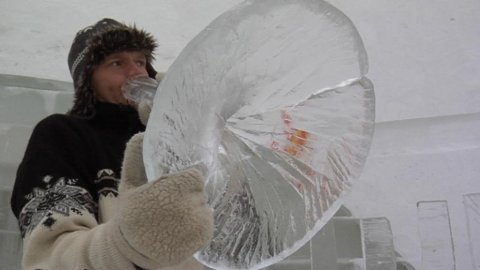 Norwegian musician and composer Terje Isungset has played to audiences all over the world using instruments made of ice. Isungset, who is playing concerts in the northern Finnish city of Oulu this weekend, is a world-renowned percussionist.
Although he has more than twenty years' experience of jazz and music across the Nordic countries, Isungset now regards himself as more of a sound artist and shaman, using ice to produce warm sounds and clear notes.
Isungset prefers his concerts to be unique, with a new experience for the audience each night.
They will never be able to hear the same sounds again. The artist's ideology demands that his instruments are returned to nature once they have served their purpose.
"Like human beings, we don't own the earth, we are just visitors here, and it is the same with our instruments," Isungset told YLE. "They are not actually mine, I don't own them, I just borrow them and give them back to nature."
Jukkasjärvi offers best ice acoustics
The artist has built instruments out of granite, birch, glass and metal. The best ice he has found for musical instruments was at Jukkasjärvi in northern Sweden. Weather conditions are crucial when making instruments from ice, and ice is an unpredictable material to work with.
"I know something, but I don't know everything," said Isungset. "But it is very much up to nature. Right now it is very good, because there is nearly no wind and it is below zero, which is quite important for me."
For more stories from YLE News, click here.