THE NEW RAW: Video Series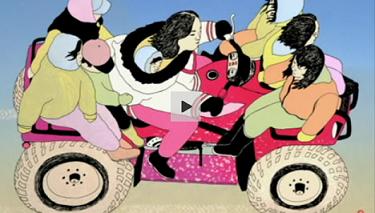 A brand new video series "THE NEW RAW" includes a complete short documentary and five in-depth interviews with prominent Inuit artists who are part of a new art movement in the North, depicting climate and social change.
---
THE NEW RAW
Feature Documentary

Art in the North is changing. While traditional art is still popular around the world, Inuit artists are increasingly interested in creating art that reflects today's reality; visual reflections on social change and climate change. To date, the South has largely ignored "THE NEW RAW" coming from the North. Journalist Eilís Quinn explores what this means, and whether the South may be missing out on something truly historic, and important.  

To watch, click here.

THE REBEL: Jutai Toonoo
Behind-the-scenes interview

Artists often say they create art for themselves and don't care what other people think. But when Eye on the Arctic tracked down Jutai Toonoo working in studio, we got the sense that he really, really meant it.

Toonoo uses human imagery to explore identity issues and cultural conflict in the North. Many experts say he's producing some of the most provocative contemporary artwork to ever come out of the Arctic. But as for all the rest, there's no better person to tell you about it than Jutai Toonoo himself.

Here he is in his own words.

To watch, click here.

 

THE PRINTER: Niveaksie Quvianaqtuliaq
Behind-the-scenes interview

The Cape Dorset art story has been told thousands of times over. But no matter who tells it and how, the printers who actually produce the physical lithographs and stone cuts, often get left out of the narrative.

But many art experts consider these printers the unsung heros of the Cape Dorset success story.

So Eye on the Arctic wanted its visitors to meet one.

Niveaksie Quvianaqtuliaq has been working at Kinngait Studios for almost two decades. Here, Quvianaqtuliaq explains how he, and his fellow printers, work to create the perfect image and what working on the Cape Dorset print collection has meant to him both professionally and personally.  

To watch, click here.

THE UP-AND-COMER: Ningeokuluk Teevee
Extended interview

There's little consensus on what the future of Inuit art will or should look like. But there's one thing almost everyone can agree on — Ningeokuluk Teevee will certainly be part of it. Her work has broad appeal; collectors of traditional Inuit art snap up her work depicting ancient legends while those looking for edgier northern art gravitate to her drawings depicting contemporary life in the North.

She admits she's not a big fan of doing interviews when everything she has to say is already out there in her work. But she sat down with Eye on the Arctic anyway to discuss how climate change is affecting Cape Dorset and increasingly inspiring her art.

To watch, click here.

THE PIONEER: Kenojuak Ashevak
Extended interview

Canadian artist Kenojuak Ashevak has arguably become the symbol of Arctic art. Her work is found in prestigious museum and private collections around the world.

Images by Ashevak can be found on everything from Canadian stamps to the stained glass windows at John Bell Chapel in Oakville, Ontario.  Ashevak was gracious enough to sit down with Eye on the Arctic to discuss her work, her success and what she really thinks about the next generation of Northern artists.

To watch, click here.

THE CARVER: Toonoo Sharky
Extended interview

Carving is usually the first thing that comes to mind when people think about northern art. 

But just like other art forms in the Arctic, carving is evolving and changing.

Toonoo Sharky is a longtime carver and has developed an instantly recognizable style that's become a favourite of collectors. In fact, it's hard to find an Inuit art gallery in Canada, that doesn't have his work as part of their collection. When Eye on the Arctic travelled to Nunavut, Sharky talked to us about his craft and his hopes for the next generation of northern carvers.