Alaskan Inuit dialect added to Facebook's Translate app
Facebook added Inupiaq, an Alaskan Inuit dialect, as a language option thanks to a grassroots project started by an Alaskan man.
Myles Creed is from the Inupiaq community of Kotzebue, Alaska. He's a PhD student studying linguistics at the University of Victoria and is involved with Inupiaq language revitalization in Alaska.
"A lot of the discussions we've had is on, how do we make sure that the language is accessible to all people in all places?" he said.
He's currently learning Inupiaq, describing himself as a conversational speaker.
He saw Facebook as an online space that can be made accessible to Indigenous languages.
"I think technology often can be thought of as a scary thing because English is so dominant online," he said.
"I also think that technology can be used as an opportunity for Indigenous languages to thrive in places that they hadn't been represented in before."
Created a translation app
Creed's first crack at trying to get Inupiaq on Facebook was by creating an app.
"It was a little bit wonky," he said. And Facebook already had its own application — Facebook Translate. "Basically it's crowdsourcing to translate Facebook."
But Creed knew someone working at Facebook in San Francisco who could help him get Inupiaq as a translation option.
"Which was a great first step," said Creed.
He began gathering Inupiaq speakers to translate the words from English — but getting volunteers was slow going.
"You really need like thousands of translations to get the interface going," he said. "So I was realizing around the end of last year that we were going to need professional translators."
A boost from paid translators
He applied for and received a mini-grant of $2,000 in January from the Alaskan Humanities Forum to pay two translators for their work.
Since then, Pausauraq Harcharek and Muriel Gail Hopson have put in hours translating hundreds of words from English to Inupiaq.
"Inupiaq is my first language and I chose to become a translator a very long time ago," said Hopson, who is from Wainright, Alaska. She says words like "unfriend" aren't an issue for her.
"So the word for friend is avilaitqan. So for unfriend, I would put Avilaitqatigisunaiq, which really translates to 'not want to be friends anymore.'"
Here's how to change the language settings on Facebook:
Facebook could add more Indigenous languages
The option to switch your language is only available on a computer, not mobile devices. Creed said anyone can request a language through the Facebook Help Centre.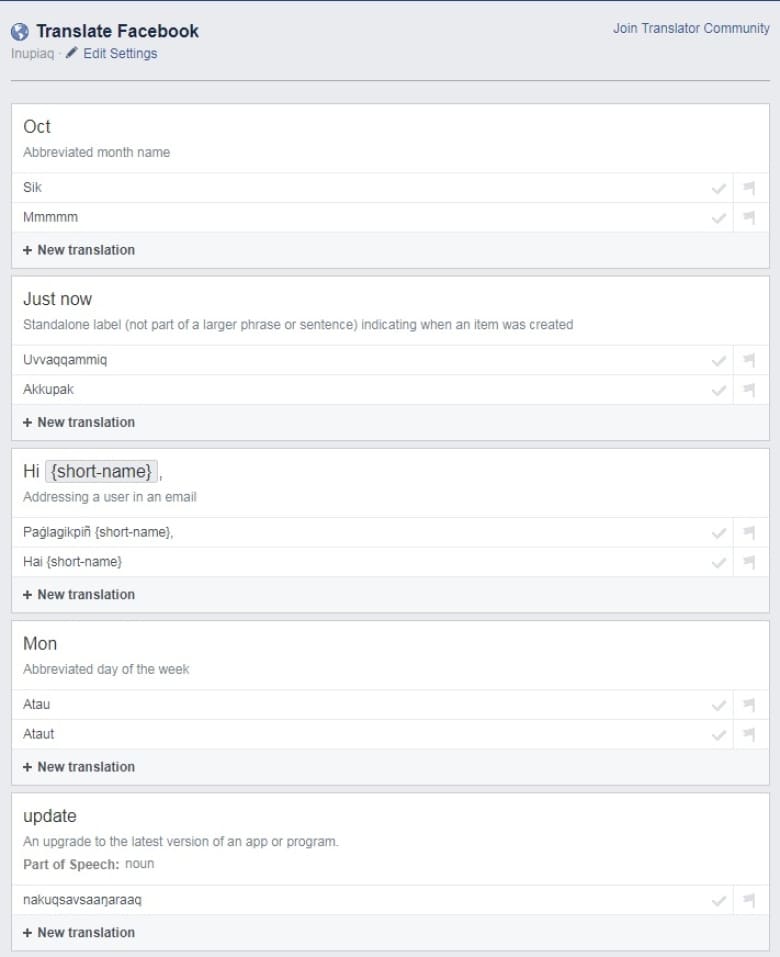 He's encouraging any Indigenous speaker who wants to see their language translated on Facebook to put in a request.
"The more requests they receive, probably the more likely they are to give you a response."
Once Facebook receives enough requests, it gets added to the Facebook Translate app. From there, anyone can go to the app and enter the translation for English words.
"There is an interface that is used where all I do is — for English terms, it gives you a blank below it to type the translation into Inupiaq," said Hopson.
It's an entire database of English words waiting to be translated. From there, users are allowed to vote in favour of or against a translation. Once a translation receives enough positive votes, they appear on Facebook.
Hopson can't count how many words she's translated, but Creed guesses it's at least in the hundreds now.
"I think it's a great way to help continue our language … especially for the younger ones that we want to know our language," says Hopson.
Related stories from around the North:
Canada: Out-dated attitudes, deficient infrastructure, block Inuit from Arctic science, G7 summit hears, Eye on the Arctic
China: Arctic Indigenous food culture takes the day at international cookbook awards, Eye on the Arctic
Finland: Bilingual Finnish-Sámi teaching to start in Helsinki school, Yle News
Sweden: Report sheds light on Swedish minority's historic mistreatment, Radio Sweden
United States: Alaska Senate joins House in declaring Native languages emergency, Alaska Public Media