Fur Poppies Give Canada's Remembrance Day Inuit Flair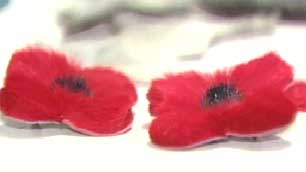 An Inuit seamstress from Iqaluit has crafted a distinctly northern version of the Remembrance Day poppy — one that is made of fur.
Atsainak Akeesho's fur poppy debuted in Iqaluit in the days leading up to the city's Remembrance Day ceremony on Thursday.
Akeesho's hand-sewn fur poppies are made of trimmed rabbit fur dyed red, with a small black sealskin circle in the centre. A safety pin is sewn onto the back so they do not fall off people's jackets or shirts easily.
Speaking in Inuktitut, the longtime seamstress told CBC News she has been making all kinds of colourful flower pins with fur scraps left over from other projects, but the idea of a fur poppy came to her by accident.
"I wasn't thinking about a poppy at all, just wanting to make a flower," Akeesho said. "But it came out looking like a poppy when I cut the fringe of the fur off, cutting it close here."
Akeesho said she has made upwards of 500 to 600 fur flower pins to date, including the poppies.
Donating sale proceeds
The fur poppies are not the only non-traditional Remembrance Day symbols in Canada. In recent years, peace groups have sold white poppies that aim to represent peace and remember civilian war casualties.
But Akeesho, a member of the Royal Canadian Legion in Iqaluit, said she plans to donate some or all of her proceeds from her poppy sales accordingly.
"It just goes to show that remembrance in Canada is alive and well, especially in Nunavut, where they could take a natural product like that and make a poppy out of it. It just is unreal," said Chris Groves, president of the legion's Iqaluit branch.
Sherri Young, who wore one of Akeesho's fur poppies at Thursday's ceremony, said it pays tribute to soldiers who have fought and fallen for Canadians while "remembering locally as well, looking at cultures and traditions that people like to keep alive here."
Nunavut Conservative MP Leona Aglukkaq wore the standard poppy on Thursday, but only because she did not get a fur poppy in time.
"If I had known that they were made already, I would have worn one today," Aglukkaq said.