Canadian Coast Guard Ship Used by Oil Companies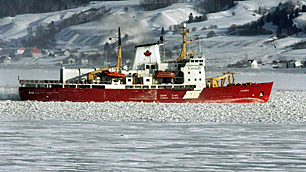 Questions are being raised over the use of a Canadian Coast Guard icebreaker by two oil companies for research that could help them make a case for drilling in the Arctic.
CBC News has learned that for a minimum of $50,000 a day, BP and Imperial Oil paid to use CCGS Amundsen — Canada's most advanced research ship which is dedicated to the study of climate change — for a total of six weeks over the past two years.
The oil companies want to study the environmental impact of their exploratory oil drilling plans in the Beaufort Sea, in the Arctic Ocean.
Steven Guilbault of the Quebec environmental group Équiterre called it a grave irony.
"[It's] a slap in the face of international research on climate change," he said. "That the same vessel that has been used years after years after years to try and help us to understand climate change in the Canada, in the North, and in the Arctic in general, is now being used by companies who profit out of making the problem worse."
The ship is run by a scientific group based out of Laval University in Quebec City called ArcticNet. Louis Fortier, the lead researcher, said it's a good way to help pay the millions of dollars it costs to keep the Amundsen running.
He said it is a marriage of convenience that benefits the Canadian public. BP and Imperial will use the data they've gathered in an environmental impact study to support an application to drill for oil in the Beaufort Sea, he said.
By using the ship, Canadians can be assured any decision to drill will be based on the best possible data, he said.
Fortier added that the data belongs to ArcticNet — meaning scientists outside the oil industry have access.
BP and Imperial declined to be interviewed.
Claude Langis, the coast guard's regional director for Quebec, said he has no problem with the Amundsen being chartered by oil companies. He said it's perfectly in line with the policies of the federal government.
But NDP MP Nathan Cullen blasted the move.
"This is the same BP that spilled 800 million litres of oil into the Gulf of Mexico," Cullen said during question period in the House of Commons on Tuesday.
"It was refitted at the cost of $30 million to taxpayers to research climate change. Not to look for oil for some of the biggest polluters on the planet.
"Why are the Conservatives using this ship, meant to be fighting climate change, to throw out the welcome mat for risky Arctic drilling?"
Minister of Fisheries and Oceans Gail Shea said the research being done benefits all Canadians.
"We all benefit from the science that happens, and in this case, what was happening was an examination of the environment to better understand impacts associated with industrial activities," she said.