Polar Bears Coming too Close to Nunavut Communities for Comfort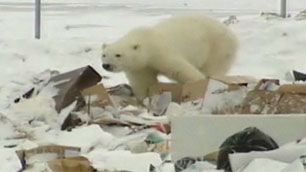 Wildlife officers in central Nunavut have had to take the unusual step of killing several polar bears that have come too close to communities like Rankin Inlet, where one animal was spotted two blocks from the elementary school.
Education officials in Rankin Inlet have stopped short of closing Leo Ussak Elementary School because of the bear sighting Tuesday.
Principal Sarah Ayaruak told CBC News that students have been told to "go straight home after school." After-school activities have been cancelled for the rest of this week, she added.
"There are students being kept at home because [parents] are afraid for their children," Ayaruak said Wednesday.
Over the past week, polar bears have wandered close to Rankin Inlet and, in some cases, entering the hamlet of about 2,500. Residents say it is unusual for polar bears to come into town.
People in Whale Cove and Arviat are also reporting close encounters with polar bears in recent days. All three communities are located along the western coast of Hudson Bay, in Nunavut's Kivalliq region.
"I think there's mixed reactions to it," Ayaruak said.
"There's people that are scared. There's people [who are] curious, and you see so many vehicles during the evening riding around to see if they will spot any."
Late winter to blame
Johanne Coutu-Autut, a Nunavut government wildlife officer in Rankin Inlet, said she has been fielding calls about bear sightings at all hours of the day.
Coutu-Autut said a late start to winter is to blame. The bears would normally be wandering far out on the sea ice by now, but the late formation of the ice this year has forced them onto land.
Coutu-Autut said two polar bears near Rankin Inlet have been killed so far, including one especially problematic bear that she ordered to be shot on Wednesday.
"We think it's the same bear that's been coming three mornings in a row to the same area," she said. "We give the bears three chances, and if they keep coming back then we have to put them down."
In one recent encounter, Coutu-Autut said a man saw a polar bear as he was walking back to Rankin Inlet, after his snowmobile broke down outside the community.
"He encountered a bear and [ended] up having to go on the roof of a cabin there," she said, adding that the man called for someone to come and pick him up.
In another case, a woman was stalked by a polar bear as she was walking on the sea ice, Coutu-Autut said. A man with a gun shot the bear before it could attack, she added.
Bear problems
Two more polar bears have been shot and killed in Whale Cove to date, while nine bears have been killed in Arviat, said Jonathan Pameolik, a government wildlife technician in the region.
"The [ice] floe edge came really close to the community, and I guess that's why they're having bear problem there," Pameolik said of the situation in Whale Cove.
"The same thing in Rankin Inlet — I hear the floe edge is not too far from town, so that's why they're having, I'm assuming, why they're having a few bear problems there too," he said.
Pameolik noted that Arviat often has polar bear problems at this time of year, during the bears' fall migration.
Wildlife officials are warning people in those communities to keep a close eye on their children. As well, people are advised not to travel outside their areas without carrying a gun.
In Rankin Inlet, while residents remain concerned about polar bears getting too close, they are also ensuring the two shot bears do not go to waste.
Coutu-Autut said the bear shot on Wednesday was big and healthy, and should provide plenty of meat for local Inuit.