Sami Reindeer-Herders Can Sue Swedish State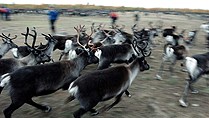 A district court in northern Sweden has ruled there is no reason why indigenous Samis there cannot sue the Swedish state for infringing on their fishing and hunting rights.
The court rejected the argument of state lawyers that there were legal errors in the suit. The Sami parliament, which has only advisory powers, had argued that the Sami people should have a major influence over fishing and hunting rights, rather than the Swedish state.