Fur Farming Protest in Helsinki, Finland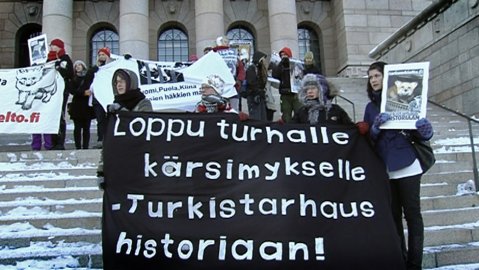 Around 200 people gathered in the centre of Helsinki on Wednesday to protest fur farming. The demonstration, organized by animal activist and environmental groups, called on Parliament to ban fur farming in Finland.
"The aim of economic gain and the welfare of animals cannot be linked," is how Anne Nieminen, a spokesperson for the group Oikeutta Eläimille (Rights for Animals) explained the thinking of protestors to YLE.
Demonstrators marched to Parliament for a series of speeches denouncing fur farming and calling on legislators to pass a ban on the practice.
Fur farming is again a hot issue after Oikeutta Eläimille last week released photos of animals at fur farms in bad health.
So far, decision-makers have been reluctant to ban fur farming. Last November, the Chairman of Parliament's Agriculture and Forestry Committee, Jari Leppä, considered the idea to be unrealistic.
"As long as there is demand, it's not worth sticking one's head in the sand. We cannot control what happens in other parts of the world, so it is better to continue production here under well controlled conditions," Leppä commented in November.
Two weeks ago, the Finnish Fur Breeders' Association announced that it was moving away from its own quality control rules and introducing the independent, international ISO quality system. Around 60% of pelts are produced by breeders who observe the Association's quality control rules.
Finland is the first country in the world to introduce ISO quality control in fur breeding and production.
Among the political parties in Parliament, the Green League is the only one that has proposed that a ban on fur farming be made a part of the official programme of a new post-election cabinet.
YLE