Extensive Ice Cover in Baltic Could Cause Shipping Problems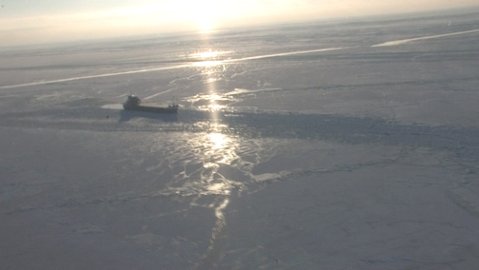 The ice cover on the Baltic Sea is now at it widest extent since 1987. And it is expected to freeze over even more. Warmer temperatures and high winds in coming weeks are likely to create pack ice and problems for shipping.
According to YLE Meteorlogist Toni Hellinen, the extent of the ice cover now being seen on the Baltic Sea is relatively rare.
"It was actually last in 1987 that there was such extensive ice cover, only about once every quarter of a century is there such widespread ice. In terms of statistics we could say that the situation is rare," says Hellinen.
The Finnish marine research vessel Aranda set out investigate ice conditions earlier this week. Onboard, Jari Haapala, a special researcher at the Finnish Meteorological Institute, told YLE that there is a wide variation in the thickness of the ice.
"There is quite a lot of ice, from a few centimetres to 20 metres. The thickest ice cover is in places where ice shelves have piled up on each other and formed walls of pack ice," explains Jari Haapala. "Spring winds and warmer temperatures will make them start moving and they will end up somewhere."
The Gulf of Finland is completely frozen right through to the north of the Baltic. Once pack ice starts moving, it is likely to cause problems for shipping.
YLE Meteorlogist Toni Hellinen says that could happen soon.
"Over the next few days, winds will be increasing in strength, so some of the ice cover will break up soon. Rather high winds are in the forecast especially this weekend," says Hellinen.
YLE