Inuit Leaders to Draft Resource Guidelines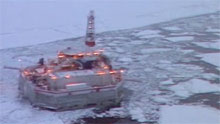 Inuit leaders from around the Arctic say they will work on guidelines to boost regulatory standards for mining, offshore drilling and other development in the North.
Representatives from Canada, the United States, Greenland and Russia announced in Ottawa on Thursday that their guidelines will be in a declaration they plan to adopt this spring on "responsible resource development principles" on Inuit lands.
The announcement capped a two-day summit, organized by the Inuit Circumpolar Council, in which leaders sought a common front on what kinds of Arctic development to support.
The Inuit leaders did not emerge with that unified position. But Mary Simon, president of Inuit Tapiriit Kanatami in Canada, said she and other leaders plan to hold another summit in Greenland at a later date to continue talks.
"We were able to have some very open and frank discussions on resource development, both offshore and on mining," Simon told CBC News as the summit wrapped up Thursday.
"This is such an important issue for Inuit that we are going to continue working together aggressively on these issues."
Guidelines to be ready by May
Aqqaluk Lynge, the Inuit Circumpolar Council's international chair, said he is confident a declaration will be finalized before the Arctic Council — an intergovernmental forum representing eight Arctic nations, including Canada and the United States — holds its ministerial meeting in Nuuk, Greenland, in May.
"We have heard of the regulatory regimes developers must comply with in order to engage in major projects in our respective jurisdictions," Lynge said in a release.
"Inuit want to inform these regulatory regimes and governments with a set of guidelines developed by Inuit in the circumpolar states."
Leaders at this week's summit agreed that Inuit should be the first to benefit from mining or offshore activities in their regions.
They also agreed to other principles that will be part of the declaration, such as:
Making sure companies respect the rights of Inuit and other indigenous peoples. Balancing the risks and benefits of development and making sure such development is sustainable. Calling for an international fund to deal with any liability and compensation for oil spills and other polluting acts in Arctic offshore waters.
Inuit leaders at the summit said they are open for business on Arctic resource development, but not at any cost.