Nunavut Grocery Prices to be Tracked Online
A Nunavut man has launched a website to track grocery prices in the territory, in order to see how a new federal subsidy will change the cost of food there.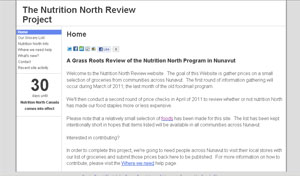 Tony Rose of Iqaluit launched his website, NutritionNorth.org, on Tuesday. NutritionNorth.org, started by Iqaluit resident Tony Rose, will publish the grocery item prices that are submitted by consumers across Nunavut over the next two months.
The website is described as a "grassroots review" of the the Nutrition North Program, which will change how grocery costs are subsidized in Canada's remote northern communities when it takes effect next month.
"There should be a way for us to track what happens after Nutrition North is put into place here, so I kind of ran with that idea," Rose told CBC News shortly after he launched the website on Tuesday.
"We could build a website here where people could all get together and put together that information."
Rose's website asks Nunavut consumers to hit their local grocery stores and check the prices of staple foods from a provided "grocery list."
The list includes items that would likely be available in all Nunavut communities, such as a one-kilogram bag of apples, a two-litre carton of milk, a loaf of whole-wheat bread, and a kilogram of ground beef.
New subsidy starts April 1
Nutrition North is replacing the federal Food Mail Program, which subsidized the costs of transporting groceries to remote communities that do not have regular road or marine access.
The new program will remove the subsidy from transportation and give it to retailers, which will be responsible for making their own freight arrangements and passing on the savings to consumers.
The Indian and Northern Affairs Department, which is running the Nutrition North program, says the subsidy aims to lower the costs of healthy, perishable foods in Canada's North.
But while Nutrition North does not come into effect until April 1, federal officials have already phased out the subsidy on many grocery items that used to be covered by the Food Mail Program but are not deemed to be healthy or perishable.
Rose said his website will publish the results from two rounds of price checks — one this month, before Nutrition North begins, and one next month.
"We don't really have a clear understanding [of] what is going to happen to our prices," he said.
"Maybe our prices will go down, maybe they'll go up, maybe they'll stay about the same. But it's important that we have a tool to understand how that's happening."
MPs call for monitoring
A parliamentary committee also wants the federal government to make sure the Nutrition North Program works for northern consumers.
The standing committee on aboriginal affairs and northern development released its report Tuesday on the Nutrition North, calling for the Indian and Northern Affairs Department to track the program's effectiveness.
Yukon Liberal MP Larry Bagnell, a member of the committee, said it has been frustrating to get answers from department officials about how Nutrition North will keep prices down while providing nutritious food to isolated communities.
"We put in a lot of items related to monitoring and doing reports, a three-year checkup on the program, ongoing methods of proving that this was actually helping people," Bagnell said.
"We're not sure we know much about this new program. They didn't give us much details, actually, even while the committee was meeting."
The committee's report is being submitted to the government for a response.
Meanwhile, Rose said he is keeping an open mind about the Nutrition North subsidy, but he wants to let people's grocery bills speak for themselves