Canada: Dene elder refuses to pay fine for caribou hunt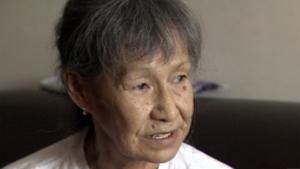 A Dene elder in Canada's Northwest Territories (N.W.T.)  who had his caribou meat and rifle confiscated has no plans to pay a $460 fine.
Jonas Cassoway was issued a $460 fine Wednesday for illegally hunting caribou.
He's the second person to be investigated for illegal caribou harvesting in the North Slave region in the past week.
Former N'Dilo Chief Ted Tsetta is under investigation by the Department of Environment and Natural Resources for hunting caribou.
At her home in Yellowknife, the capital of Canada's N.W.T., Cassoway's wife, Toni, says she's so devastated, she can barely leave her apartment.
"The only way I could deal with it was cry and I cried, like somebody ripped my heart out of me," she said.
In 2010, the N.W.T. banned all hunters from harvesting caribou in the Bathurst herd's winter range north of Great Slave Lake to the boundary with Nunavut.
"Jonas's treaty number on there," said Toni, looking at the ticket. "I said 'why the hell they put that on there for?' You know? Cuz treaty number didn't do a damn thing."
Toni said she asked Jonas to hunt caribou for her meals because she is on a no-potassium diet.
"If that's the way it's going to be, I can't have what I want, then I want to go back to living off the land, getting my food off the land," she said.
The Department of Environment and Natural Resources says a ticket has been issued for illegal possession of wildlife and that the ticket holder has until March 17 to pay the fine, or he'll have to go to court.
Toni Cassoway said the couple are living off their pension and are not going to pay the fine.
Related Links:
Canada: Yukon, Canada to review roadside hunting, CBC News
Finland: Hunting season underway in Finland, Yle News
Sweden: Bear hunting grows more popular in Sweden, Radio Sweden
United States:  Alaska Natives rally for restored aboriginal hunting, fishing, Alaska Dispatch