Porcupine Caribou Herd Growing: Alaskan Biologists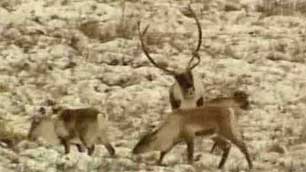 Yukon environment officials say they may ease caribou hunting restrictions along the Dempster Highway, as the latest Porcupine caribou survey shows the herd has grown by almost 50,000 animals in the last decade.
Yukon hunters take a caribou along the Dempster Highway in 2009, after restrictions were introduced in an effort to preserve the Porcupine herd. (CBC) The Porcupine herd has grown to 169,000 caribou from about 123,000 in 2001, according to the final figures from an aerial photograph-based survey done in Alaska last summer.
"It is good news for everybody, particularly when you consider that there had been caribou herds over in the Northwest Territories that have declined very rapidly in size," Dennis Senger, manager of communications with Yukon's Environment Department, told CBC News on Wednesday.
"We had that concern over here, that it might happen with the Porcupine caribou."
Cross-border herd rebounding
With other caribou herds in decline across the North, wildlife managers in both Yukon and Alaska had feared the worst for the cross-border Porcupine herd.
The herd peaked in 1989 at 178,000 caribou, but four photo surveys between 1992 and 2001 documented a decline to 123,000 caribou, a drop of more than 30 percent.
Jason Caikoski, an Alaskan state biologist, said officials on both sides of the Canada-U.S border erred on the side of caution as they waited for the latest survey results.
"Both Alaska and Yukon have been taking kind of a conservative approach to management, assuming that the herd hadn't changed much from that 2001 estimate or possibly continued to decline," Caikoski said. "So we're really happy with the results."
Restrictions imposed in 2009
In the fall of 2009, the Yukon government imposed temporary hunting regulations along the Dempster Highway to protect the Porcupine herd, which is considered to be the largest caribou herd in the territory.
Under the temporary rules, licensed Yukon hunters could harvest only one caribou bull per season. There were also restrictions on what aboriginal subsistence hunters could take from the herd.
"The numbers now put the caribou under the harvest management plan to what they call the 'green zone.' That means that licensed Yukon hunters can take up to two bulls and there would be no limit on subsistence harvest," Senger said.
"We would have to go back to the regulations that were brought in in 2009 and look [at] where changes can be made."
Yukon officials will meet later this month to consider proposed changes to the regulations.