Should firearms be allowed in Canada's northern national parks?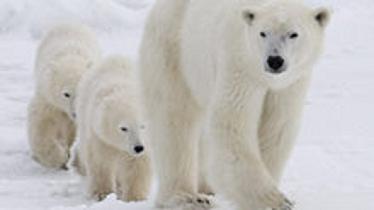 Tour outfitters, researchers and others could be allowed to carry firearms in northern national parks where polar bears are present, if proposed changes to federal parks regulations are adopted.
Under Parks Canada's proposed regulation changes, certain visitors in national parks where polar bears are present would be allowed to carry and use firearms, in order to protect themselves. Jonathan Hayward/Canadian Press Parks Canada is consulting the public in communities near its northern parks, such as Auyuittuq National Park in Nunavut, about the idea of allowing firearms under specific circumstances.
If the regulation changes are approved, certain park visitors, such as researchers and outfitters, would be allowed to carry and use firearms in all parks where there are polar bears.
"This category of users, park users, will be able to carry a firearm for protection of themselves and of other people that are going into the park," Nancy Anilniliak, Parks Canada's superintendent for Nunavut, told CBC News on Thursday.
Matty McNair of NorthWinds Polar Expeditions, a tour outfitting company in Iqaluit, said she has always had to dismantle her firearm when guiding clients through Nunavut's national parks.
Cannot use firearm
Under Parks Canada's current regulations, McNair can carry her gun because she and her group were considered to be travelling through the park. But she could not use her firearm in the park, even in the event of a polar bear attack.
"If I see a bear going through somebody's tent and dragging them around, and I use all my bear flares and it's not working, then I put my gun together and shoot the bear because I'll be liable if my client gets killed," McNair said.
"But then I'll be in really big trouble and it'll cost me a lot of money if I shoot the bear. You know, it's going to be a dilemma."
Parks Canada is holding the public consultation meetings over the next few months, in the hopes of hearing what people think about the proposed new rules.
McNair warned that the decision about who can carry and use a firearm in a park may not be so simple.
"There's some people that should never carry firearms, and there's some people that would be very safe to carry firearms," she said.
"It would need to be the appropriate firearm, because rifles — those bullets travel a long way," she added. "It's going to be a tough one."
If approved, the Parks Canada regulation changes could come into effect near the end of next year.