Diamond promotion centre in the works in Canada's Northwest Territories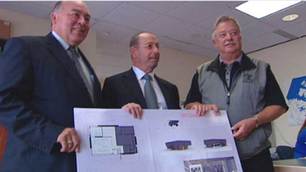 Crossworks Manufacturing Ltd., a company that polishes diamonds from Canada's Northwest Territories, says it is building a "diamond promotion centre" where visitors can see how the precious gems are made.
Crossworks announced Tuesday that it will open the centre early next year in downtown Yellowknife, the capital of Northwest Territories, in a building attached to its diamond polishing plant.
Exhibits at the centre will illustrate the production of a Northwest Territories diamond from the mine, through the cutting and polishing processes, to the jewelry store.
The site of the centre will undergo $300,000 in renovations, according to company officials.
"By far, it's a huge change in the place, inside and outside," Crossworks president Uri Ariel told CBC News at Tuesday afternoon's announcement.
Diamond's journey on display
Ariel said the centre will have exhibits showcasing the territory's three diamond mines — Rio Tinto's Diavik mine, De Beers' Snap Lake mine and BHP Billiton's Ekati mine — as well as a theatre and a diamond boutique.
"We wanted to celebrate the success of the diamond industry in the N.W.T. by opening a diamond centre where the public can tangibly see the journey of a diamond," he stated in a release.
"It reflects our commitment to the secondary diamond industry and the N.W.T."
Crossworks, which describes itself as the world's "largest manufacturer of branded Canadian diamonds," has been operating in Yellowknife since August 2008. The company also has facilities in Vancouver and Sudbury, Ont.
The diamond promotion centre is being funded solely by Crossworks, but the company maintains that it's really a partnership with the City of Yellowknife and the Northwest Territories government.
 Tourism destination    
Officials are hoping the diamond promotion centre will raise the public profile of diamond polishing and manufacturing in the territory.
"I think a lot of people come up here [and] they want to see diamonds," said Bob McLeod, the N.W.T.'s minister of industry, tourism and investment.
"Our research has shown that it's an additional thing to make people come to the Northwest Territories."
While there will be few actual diamonds at the centre, Crossworks members will conduct diamond polishing demonstrations, according to the company.
Yellowknife Mayor Gordon Van Tighem said the centre will become another destination for tourists and other visitors to the city.
"It gives us an additional product within town for people that are here on vacation, on aurora [borealis] viewing or conferences," he said.
"They're always looking for outside activities, and the more activities there are, the more they are interacting with the community and the more they spend."
Crossworks says it hopes to open its diamond promotion centre by the second week of January.
Originally posted August 16, 2011