Boil water order in Northern Swedish town to be lifted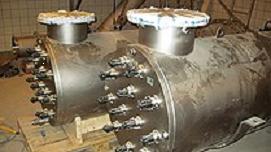 Inhabitants in Skellefteå, a town of around 32,000 in northern Sweden, should be able to stop boiling their drinking water in September, reports Swedish news agency TT.
Following a sewage system  upgrade and the flushing of the water mains, the technical team at the municipality's building and environment committee has requested a lifting of the recommendation to boil drinking water.
The recommendation was made back in the spring when Skellefteå's water supply became contaminated, causing cases of stomach illness.
City residents were encouraged to boil their drinking water but were informed that there was no danger for pets or livestock – since the parasite only affects human beings.
Three ultraviolet light machines were loaned to the city to help clean its tap water.
The UV equipment is reportedly the most effective way to kill the parasite, Cryptosporidium, which can cause diarrhea and stomach aches. Some six-thousand residents there have reported that they suffered from stomach maladies in April.
Officials believe the drinking water is contaminated by waste water, though they are still waiting for tests to confirm this.