Victims of Resolute Bay crash in Canada's High Arctic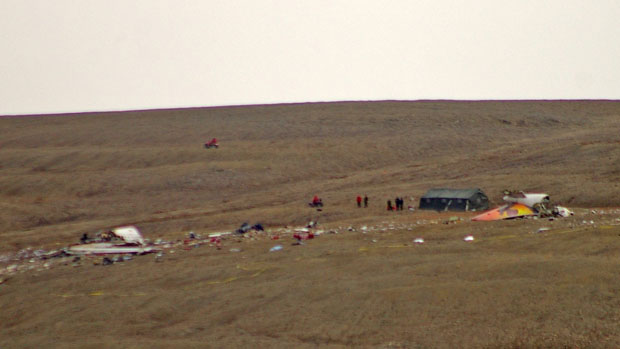 First Air flight 6560 was carrying 15 people when it crashed near Resolute Bay, Nunavut, on Aug. 20, killing 12, including four crew members, the six-year-old granddaughter of the man who chartered the flight and several workers from outside the territory.
Three others — Nicole Williamson, Gabrielle Pelky and Robin Wyllie — survived the crash.
Williamson, 23, found seven-year-old Gabrielle near the crash site with a broken leg, and carried her away from the devastation, RCMP Sgt. Paul Soloman said.
"It's amazing they survived such a thing," he said.
Nunavut Premier Eva Aariak said the loss was particularly hard for many in the closely knit northern towns and hamlets.
"We have 25 communities in Nunavut and we always feel the pain and loss of those who perished as if they were part of our community," she said. "We have such a connectedness in all of our communities. So our hearts and thoughts go out to all those affected throughout and especially those in Resolute."
CBC News has compiled a list of those who died in the crash.
Marty Bergmann
An acclaimed Arctic researcher, Marty Bergmann was headed to Resolute Bay to give Prime Minister Stephen Harper a tour of a new research facility. The father of four was director of Natural Resources Canada's Polar Continental Shelf Program and lived in Winnipeg.
Family friend Michelle Anderson said Bergmann used to build hockey rinks for his children and was passionate about Canada's North.
"He would do anything for his family," she said. "He was the kind of guy who dreamed big in all areas of his life."
Harper issued a news release Monday paying tribute to Bergmann.
"His legacy will live on in the science benefiting Northern families and in exercising Canada's sovereignty over its Arctic territories," he said.
Cheyenne Eckalook
Cheyenne Eckalook, six, was travelling with her seven-year-old sister Gabrielle Pelky to Resolute Bay after a summer trip to British Columbia. Cheyenne was killed in the crash, but Gabrielle survived with a broken leg and cuts to her face.
Their grandfather, Aziz Kheraj, owns the South Camp Inn in Resolute and said he had chartered the flight, adding he lost six staff members in the crash.
Ann Marie Golding
Ann Marie Golding was a flight attendant on First Air 6560 who lived in Yellowknife.
The mother of two also worked part time as a nurse at the Stanton Territorial Hospital in Yellowknife, the Toronto Star reported.
Allison Butz told CBC News that Golding used to babysit her.
"I've known her since I was a baby, she's been a family friend for years," Butz said. "She's just a great person, a single mom."
Steve Girouard
Steve Girouard was a passenger on board First Air Flight 6560 and was from Bathurst, N.B. His fiancée, Lise Lamoureux, was also killed in the crash.
Lise Lamoureux
Lamoureux was from Bathurst, N.B. Bathurst Mayor Stephen Brunet visited her family on Aug. 22 to express his condolences. He said she was excited about a job she had just taken in Nunavut. It was her first time flying.
David Hare
David Hare lived in Yellowknife and was the first officer on the flight. He was married with three daughters — the youngest just one month old.
"Flying was his passion and he took it very, very seriously," his sister, Julie Garner, said.
Ute Merritt
Yellowknife resident Ute Merritt was a flight attendant on First Air 6560. She leaves behind her husband and five children.
Family friend Jan Fullerton said Merritt had a passion for sailing and a joy for life.
"Just a warm person," Fullerton said. "A beautiful person to know."
Raymond Pitre
Raymond Pitre was a passenger on First Air Flight 6560 and the third New Brunswicker on the plane, reportedly from the Bathurst area as well.
Randy Reid
Randy Reid worked as a cook at Resolute's South Camp Inn owned by Aziz Kheraj, whose six-year-old granddaughter died in the Aug. 20 crash.
Michael Rideout
Michael Rideout, 65, lived in Mount Pearl, Nfld. but regularly commuted to work in Canada's North. Rideout was an electrician at the South Camp Inn in Resolute.
Miraculously, Rideout had survived another plane crash three years ago, along with Ches Tibbo, who also died when flight 6560 went down on Aug. 20. Rideout was also on a plane that crashed 30 years ago in Churchill Falls in Labrador. Rideout had an enduring fear of flight as a result.
"He told me when you get on these planes there's no guarantee," his wife, Anne Rideout, said, adding that her husband continued to fly despite his fears because he needed to earn a living.
Rideout also said her husband planned to retire in December.
"I'd give anything for him to be here," she said.
Blair Rutherford
Blair Rutherford was the pilot on Flight 6560 and lived in Leduc, Alta., family members told the Edmonton Journal. He moved to Alberta from Winnipeg 20 years ago. Rutherford, 48, had a wife and two young children, according to the article.
Ches Tibbo
Ches Tibbo turned 49 the day he was killed in a plane crash in Nunavut. Courtesy Pam Pardy Ghent
Ches Tibbo was flying back to Nunavut after a visit to Newfoundland for his sister's funeral. Tibbo worked for Aziz Kheraj, whose six-year-old granddaughter also died in the crash.
Tibbo, who turned 49 on the day of the crash, was a carpenter from Harbor Mille and survived another plane crash in 2008, an incident that gave him a fear of flying.
"It's very shocking. It don't seem real to any of us at all," Meena Tibbo said of her uncle.
"He was very scared to get on that plane," she said.