Plane crash outside Resolute Bay rocks Arctic community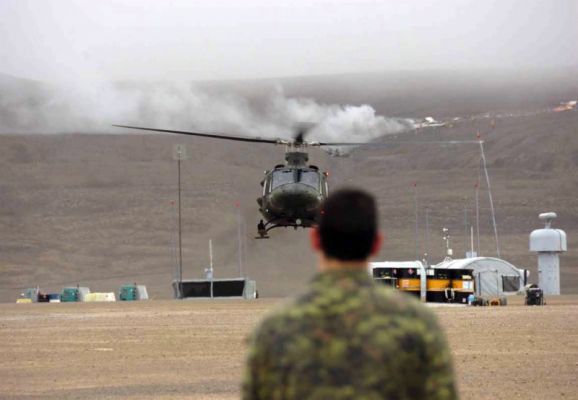 Despite all that the Arctic countries have done to try to make the region safer for transportation, deadly accidents still tragically happen. On Saturday, First Air flight 6560, en route from Yellowknife to Resolute Bay, crashed, killing 12 people on board and injuring three others. Visibility was approximately three miles at the time of the crash of the Boeing 737, with fog, drizzle, and a 200-foot cloud ceiling.
Though the accident is small compared to large, commercial airliner crashes, the shock waves are being deeply felt throughout the community of only a little over 200 people. Counselors have been sent to both Resolute Bay and Yellowknife. Aziz Kheraj, owner of the local South Camp Inn, chartered the flight every three to six weeks to bring both food and passengers to his hotel in the remote High North. Kheraj lost a granddaughter and six staff members, while his other 7-year old granddaughter, Gabrielle Pelky, was injured, though she was fortunately released from the hospital yesterday. She and two other passengers were first flown to a hospital in Iqaluit and then to Ottawa General Hospital, over 2,100 miles away – demonstrating the enormous lack of resources and infrastructure in the Arctic.
The Premier of Nunavut, Eva Aariak, stated,
"We have 25 communities in Nunavut and we always feel the pain and loss of those who perished as if they were part of our community…We have such a connectedness in all of our communities, so our hearts and thoughts go out to all those affected throughout and especially those in Resolute."
Renowned scientist among those killed

The scientific community has also lost an important figure, as Marty Bergmann, director of Natural Resources Canada's Polar Continental Shelf Program (PCSP) and chair of the Forum of Arctic Research Operators, was killed. Stephen Harper spoke warmly of Bergmann, observing, "During his impressive career in the government — most recently as director of the Polar Continental Shelf Program with Natural Resources – he worked tirelessly to support researchers in the country's vast and remote North and has been a leader in rejuvenating Canada's Arctic research infrastructure." The PCSP is currently upgrading an existing research facility in Resolute with the $11 million in federal funding awarded through the Arctic Research Infrastructure Fund. Harper added, "His legacy will live on in the science benefiting Northern families and in exercising Canada's sovereignty over its Arctic territory."
Canadian military nearby
Fortunately, though, just two kilometers away, members of the Canadian Armed Forces were preparing to stage the rescue of an airplane crash, scheduled to take place on Monday as part of the third week of the annual Arctic exercises, Operation Nanook. The nearby soldiers were able to arrive at the scene of the real crash within 10 minutes, with four helicopters as well. First responders from Resolute Bay came soon thereafter.
Prime Minister Stephen Harper said in a statement, "Thanks to the herculean efforts of first responders, including members of the Canadian Armed Forces, lives were saved that otherwise might have been lost." This is a busy time for Resolute, as Harper was supposed to be there yesterday as part of his annual visit to the Arctic. He rescheduled his visit to today, however, in order to pay his respects. On Saturday, Governor General David Johnston and his wife were already in Resolute on their tour of the Arctic, but their public events on Sunday were cancelled.
Emergency response in the Arctic
But though all of these high-level politicians and the military had convened near Resolute over the past weekend, Harper was realistic about the chances of there being permanent search and rescue capabilities up North. He said today, "We have to be realistic — there is no possible way, in the vastness of the Canadian Arctic, we could have all of the resources necessary, close by. It's just impossible." The fact that Ottawa is over 2,100 miles away from Resolute highlights the vast expanse of the Canadian Arctic, both vertically and horizontally. Ottawa and resolute are just a couple of hundred miles closer than San Francisco and Washington, D.C.
Airplane accidents are unfortunately a somewhat familiar occurrence in the Arctic due to the severe weather. In the U.S., for instance, from 1990-2009, 35% of all commuter and air taxi accidents in the U.S. occur in Alaska [1]. This past July, the crash of a single-engine de Havilland Canada DHC-2 Beaver plane in northeastern Saskatchewan killed five. These recent crashes all underscore the need for improved aeronautical safety in the Arctic, which better weather monitoring systems might help to achieve.
My thoughts go out to all those affected by the crash.
News Links
"Deadly plane crash strikes Arctic hamlet," Montreal Gazette
"First Air Flight 6560," Canadian Skies
"Pain of Arctic jet crash spreads," The Canadian Press
Originally posted August 24th, 2011