Futuristic 'airships' to be built for North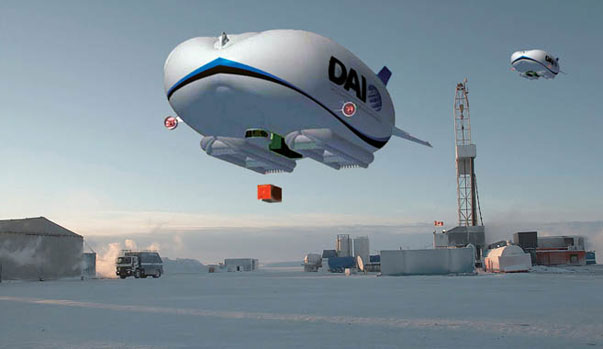 A British manufacturer will build a fleet of airships for Discovery Air, a company based Canada's Norwest Terriotires, to supply remote communities and enterprises in the North, the two companies say.
The futuristic giant blimps from Hybrid Air Vehicles will cost $40 million each, Discovery Air Innovations, a Quebec-based subsidiary of Disovery Air, announced after signing its agreement with HAV.
The aircraft use a mix of non-flammable helium and air power to fly and can land on almost any surface, HAV says on its website.
They'll be able to carry up to 50 tonnes of cargo to mining camps and remote communities, HAV says.
Stuart Russell, the vice-president of a Yellowknife mining logistics company, suggests northern transportation is a challenge just waiting for solutions.
Roads can fail
"It's a huge logistical challenge when the ice roads fail," he told CBC News. "In the High Arctic, there's lots of opportunity for oil and gas extraction but we have to find a way to do it. The airship may be one solution."
Hybrid Air Vehicles and Discovery Air Innovations are working together to design the airship for the North and get it through the certification process.
Discovery Air, which faced major financial problems two years ago and needed assistance from the Northwest Territories government, says it plans to buy up to 45 airships and hopes to have them operational by 2014.
HAV says technological improvements have allowed for an airship much better than the original concept.
"With a cargo capacity of 50 tonnes at speeds up to [185 km/h], we believe this capability will enable economic development of remote, stranded resources with a low environmental impact," HAV said on its website.