Ships releasing less waste water into Gulf of Finland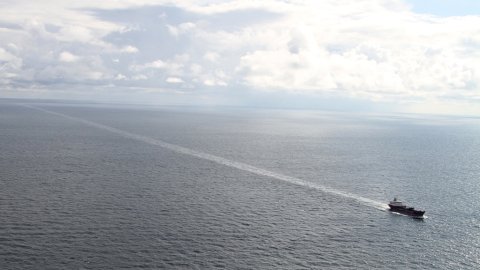 Fewer vessels are discharging oily waste water in the Gulf of Finland or Baltic Sea, according to Finland's Environmental Administration (Syke). A five nation inspection operation which ended on Saturday only detected three spills. The search was carried out using six aircraft.
The administration reports a dramatic improvement regarding spills in the Baltic Sea over the past 15 years. Fewer than 20 discharges have been detected this year in the Gulf of Finland. In 2001, over 100 were reported.
"Inspection and environmental awareness has increased in addition to the discharge of waste water while in dock as part of harbour fees," Chief Inspector Heli Haapaaari explains.
Acquisition by Estonia of a specially equipped inspection craft has also improved matters.
The administration says most oil discharges are made by foreign merchant vessels mainly of Russian or Estonian origin. Discharges from oil tankers are rare despite their increase in numbers.
Last year, a total of 149 illegal oil discharges were detected in the Baltic Sea. Some 4,200 inspection flights were made.
Originally published September 3, 2011