323 Norwegian reindeer killed by lightning strike 'in the wrong place at the wrong time': expert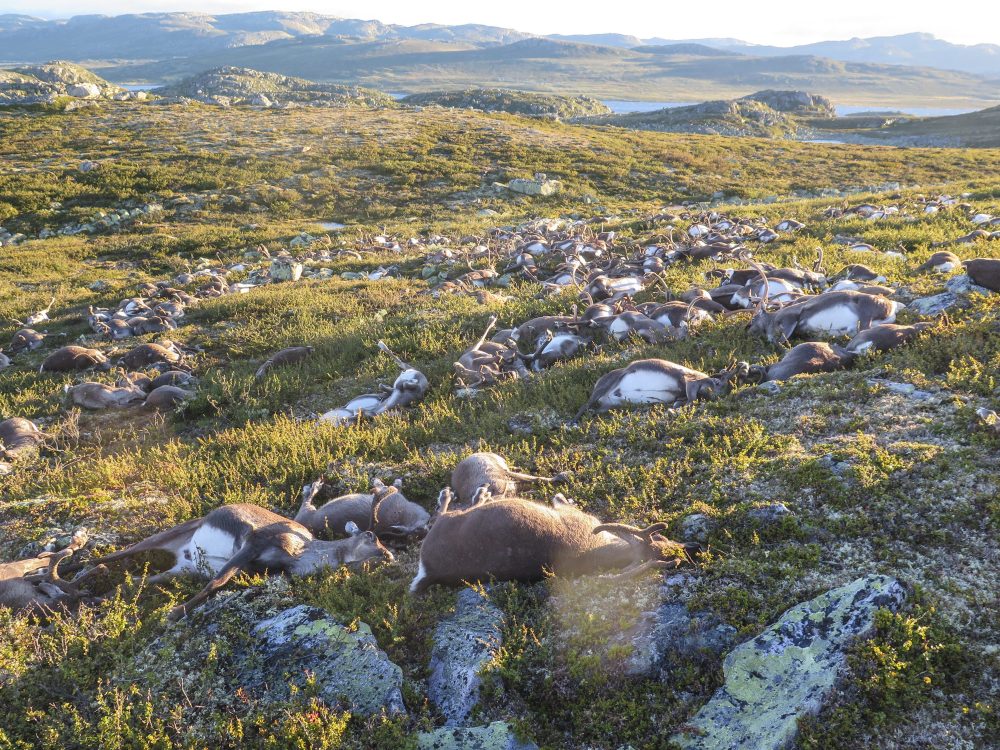 A herd of Norwegian reindeer killed in the deadliest lightning strike ever seen by scientists were likely in the wrong place at the wrong time, says a Canadian scientist who studies the natural phenomenon.
"It looks to me like they were in the highest spot in the region," said William Burrows, research scientist with Environment and Climate Change Canada. "It seem like they were all bunched together, and when lightning strikes the ground, it can flow through the ground and it looks like that's what happened, it would come up through their limbs."
The Norwegian Environment Agency has released eerie images showing a jumble of reindeer carcasses scattered across a small area on the Hardangervidda mountain plateau. The agency says 323 animals were killed, including 70 calves, in the lightning storm Friday.
Unprecedented carnage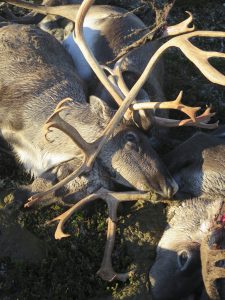 Agency spokesman Kjartan Knutsen told The Associated Press it's not uncommon for reindeer or other wildlife to be killed by lightning strikes but this was an unusually deadly event.
"We have not heard about such numbers before," he said Monday.
A lightning strike can radiate out from the point where it hit the ground for a few hundred feet, Burrows said.
"So it looks like these reindeer where all fairly close together and the lightning must have hit, probably, right where they had gathered," he said.
Contrary to the popular myth that lightning never strikes the same place twice, it's also possible that the reindeer were struck by several lightning strikes, Burrows said.
"Lightning will strike wherever it wants to and if a particular place is a high point in the area, it will be struck many times," Burrows said. "I don't know the meteorology that happened that day but to have a thunderstorm in that area it had to be a fairly powerful one and, probably, with a lot of lightning in it."
Norwegian authorities are now discussing what to do with the dead animals. Normally, they are just left where they fall to let nature take its course, Environmental Agency spokesman Kjartan Knutsen told The Associated Press.
Thousands of reindeer migrate across the barren Hardangervidda plateau as the seasons change.
Deadly force of nature
It is estimated that each year on average in Canada, there are between nine and 10 lightning-related deaths and up to 164 lightning-related injuries, according to statistics compiled by Environment Canada and Climate Change.
The best defence to avoid lightning strikes out in the open is not to be in the highest area, Burrows said.
"If you're hiking, you want to make sure that you're not around the highest point because that's where the lightning will strike," he said.
With files from The Associated Press
Related stories from around the North:
Canada:  Caribou numbers plummet in eastern Canada, Radio Canada International
Finland: Better times for reindeer herding, Yle News
Norway:  Norway's radioactive reindeer, Barents Observer
Russia:  Reindeer herders evacuated from anthrax zone in Russian Arctic, The Independent Barents Observer
Sweden: Bear hunt quota worries reindeer herders in Sweden's Arctic, Radio Sweden
United States: Wildfires could threaten Arctic caribou herd's winter habitat: study, Alaska Dispatch