Men rescued from mountain in Sweden's Arctic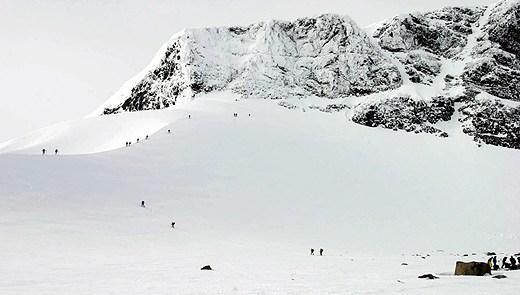 Two men survived five days trapped on the unforgiving Arctic terrain of  Kebnekaise, Sweden's highest mountain.
A chocolate cake and melted water was all the men had to survive. They were saved on Thursday by a rescue team.
"You could see in their eyes how happy they were when we came," Odd Fischer, rescue group chief told Sweden's TT news.
"They have managed unbelievably well. They could have been in a coma or fainted from lack of food and water for five days. But they are boys who saved themselves," Odd Fischer said.
The men, in their thirties and from the west coast of Sweden, went up Kebnekaise in Sweden's Arctic on Saturday for a day trip.
But hard winds meant the men decided to seek shelter in an uninsulated cabin. When the weather did not break, the men rang emergency services the next day. But it was only on Thursday that the weather was good enough for a helicopter to arrive.
A chocolate cake, which had been saved for the day's trip, was the only food the men had to live on. They drank water from melted snow.