Boreal ducks threatened by climate change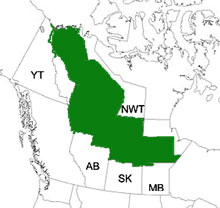 Ducks doomed by earlier snow melts brought on by global warming, study finds
Scientists long puzzled by the rapid decline in millions of Canadian boreal ducks since the 1970s think they may finally have the cause: global warming.
"Because of climate change, the ducks don't have the food that they need when they need it," Stuart Slattery, a research scientist with Ducks Unlimited Canada, told CBC News on Friday.
Slattery and a team of scientists from the University of British Columbia, the University of Saskatchewan and Environment Canada have long been trying to solve a mystery in Canada's boreal forests: why have two duck species, the scaup and scoter, dropped so dramatically in numbers — by 40 per cent and 60 per cent, respectively — in just three decades?
The scaup population, for instance, plunged from six million to 3½ million.
Spring starting earlier
The team suspected the ducks' boreal wetland habitats were changing, so they examined snow cover data. That was when they made a startling discovery.
"We found that over a 35-year period, that spring comes on average about 11 days earlier," Slattery said.
Slattery said that is a massive change. Low snow cover is directly linked with the drop in the ducks' survival.
Slattery said the world's warming trend interferes with a delicate timing in nature.
Migratory birds fly south in the fall and return just in time in the spring to feed on an abundance of insects. The duck mothers especially need this food while nesting in June.
But now that the spring is arriving nearly two weeks sooner, the ducks fly in too late for the feast.
"As this mismatch gets worse, the ducklings are impacted the most," said Slattery. "The food just simply isn't there in the amounts that it was historically."
Other duck species adapting
Curiously, other duck species, such as the mallard, are adapting since they can migrate to nesting areas earlier in the year.
But Slattery suspects the scaup and scoter have not developed that ability.
"They just get here late, and so they don't have a chance to re-nest like some of the other earlier nesting species do," he said.
Slattery said society's continued use of fossil fuels is causing all these problems.
"We are experiencing climate change in a very real way. [Duck] populations are getting smaller and smaller," he said.
A recent Stanford and University of Toronto study found that 98 per cent of 1,300 scientists who publish papers on climate change agree that the world is warming, and humans are the cause.
Prairies smashing weather records
Slattery said science has documented numerous examples of climate change interfering with wildlife, including mosquitoes, tree swallows, polar bears and ringed seals.
The study comes at a time when the Prairie provinces are smashing warmth records for January. Some Manitoba communities hit highs between 6.7 C and 11 C on Thursday.
Slattery said our warming world is only adding to other environmental stresses for duck habitat, including farming and industry.
The scaup and scoter ducks nest throughout the western boreal region, from Yukon and Northwest Territories to northern British Columbia, Alberta, Saskatchewan and Manitoba.
The research team's report was first published on the website of the journal Global Change Biology in October.